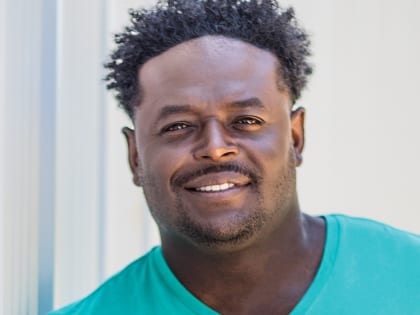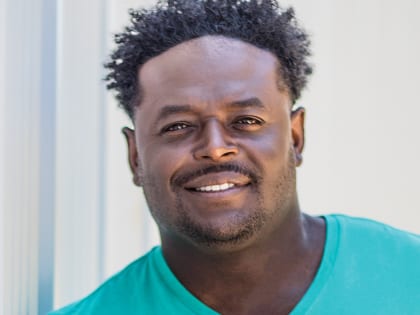 "If I'm always the smartest person in the room, then the room I'm in is too small or I'm too insecure."
In Part 1 of the interview, Derwin Gray talks about his childhood, his NFL career and how he found Christ.
After the devastating injury against the Dallas Cowboys during your fifth season, what was your plan?
I was put on injured reserve so I still got my full salary but I pretty much knew I was done and that it was time to open a new chapter in my life. I was thinking about maybe working for a financial services company and doing financial advisement or maybe going back to my alma mater Brigham Young University to coach.
What happened?
I got a call and was asked to speak at a state youth convention in Columbia, South Carolina. I was arguing with God about it because I am a compulsive stutterer. In the shower I heard God say, "If I can raise my Son from the dead, I can raise your tongue to speak." Before I spoke I felt like I was about to play in the Super Bowl. I was incredibly nervous and excited. I had no idea what a sermon was. All I knew was that if Jesus could change me, he could change them and that's what I told them. Hundreds of kids stood up and asked to accept Jesus. When I got done the youth pastor brought me in and said, "Get ready. God's gonna start using you."
Was that true?
I became part of a nationwide itinerant ministry. The compulsive stutterer was now traveling around the world speaking at conferences.
You write about how white and segregated most of the conferences were. How did that affect you?
I was very disappointed. Why were nightclubs, armies and companies diverse, but churches not? The answers we got were terrible, and my wife and I sensed God saying, "Will you do something about it?" He was calling me to lead change.
Why did you decide to plant a church?
We had been told, over and over: "Don't plant a multiethnic church. It's too hard; they don't work." It was best to follow the homogeneous principle of the same: ethnicity and social economic class. I said, "Show me that in the Bible." If the apostle Paul planted multiethnic gospel-centered churches, then that's what I'm called to, as well. Breaking down barriers like the ones between Jews and Gentiles is not optional.
You fought the idea of becoming a pastor. What changed your mind?
From my early life experience I learned that people who got close to you had the power to hurt you. So, my thing was, "Why give them a chance?" I believed I was not good enough or organized enough and people were going to abandon me just like they always had. I went to a retreat for Christian church planters and a couple of psychologists spoke. They helped me see that whatever excuse I had, Jesus was my sufficiency. With that in mind, I started a leadership team with people who covered my weaknesses, so I could work through the gifts God had given me.
What advice do you have in forming a leadership team?
You have to have people who are stronger than you are in areas where you are weak. You want to complete yourself. I see my job as a leader is to build into people and extract out of them the wealth of resources God has put into them. I want people around me to do the same thing. If I'm always the smartest person in the room and I know the answers to every question, then the room I'm in is either too small or I'm too insecure.
When did you start Transformation Church?
Super Bowl Sunday, 2010. We didn't think anybody was going to come because it was Super Bowl Sunday. At the same time I was having that angst, I prayed for 700 people to come and at the end of two services, 701 people showed up. I didn't know then—that doesn't happen in a church plant.