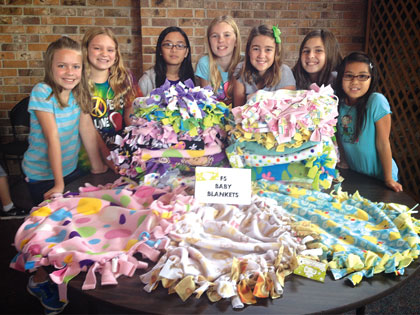 A church's elementary-age girls make fleece blankets for the local hospital's NICU patients.
Last October, some of Sugar Land First United Methodist Church's youngest members gave a hand to a local hospital's littlest patients.
Fourth and fifth grade girls from the Sugar Land, Texas, church delivered 25 tied fleece blankets to Houston Methodist Sugar Land Hospital's neonatal intensive care unit. A nurse thanked the girls and escorted them to the unit, says Dena Lee, director of children's ministries.
"It was really sweet," says Lee. "There was a baby who had just been brought to the unit, and she put a blanket over the incubator."
The girls made the blankets during the 700-member church's annual Crews for Christ day of service. Lee says she thought to make blankets in 2013 after hearing about a similar project aimed at foster children. She says her church strives to teach children to serve others.
"We feel that if you start then," says Lee, "it's just something that's accepted."