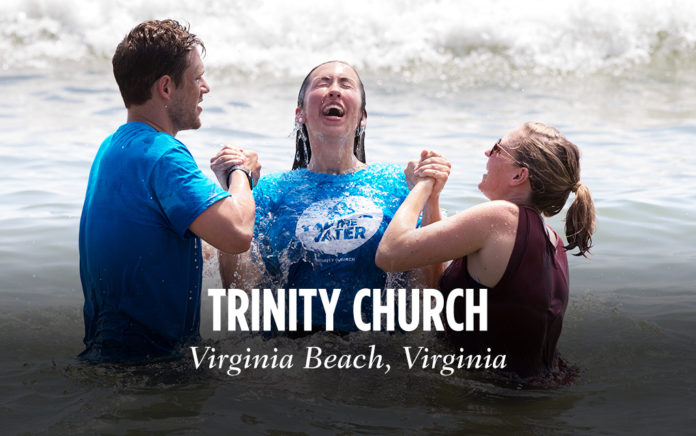 Virginia congregation attributes growth to relationship building.
Hunter McWaters has been a member of Trinity Church since it began 13 years ago. He came on staff full-time in June 2020, and before that he worked for the church part-time and played drums in the worship band. But several years ago, McWaters confessed to his friend and worship leader, Chandler, that he was battling drug addiction.
"I knew I wasn't going to get out of this by myself," McWaters recalls. "[Chandler] was one of the first people I came clean to, and he was really understanding and loving. He was really gracious about it and tried to help me."
When McWaters returned from treatment, the Virginia Beach, Virginia, church didn't stigmatize him. They embraced him with open arms, welcoming him back like a modern-day prodigal son. McWaters' relationships at Trinity profoundly affected his life and transformation. Personal connection matters, and it's played a huge role in Trinity's growth over the past year.
"We could have all kinds of marketing campaigns," says Scott Hoffman, executive pastor for ministry at Trinity, "but the way people come to a church is when they get invited. And when our folks are energized, they are inviting people. We've also been meeting a lot of people because of our increased work in the community."
In the past year, Trinity has grown several-fold.
"We don't take any credit for the growth at all," Hoffman says. "Our mission statement is to make disciples who exalt Jesus Christ and honor God's Word in all they say and do. That's more than just a slogan for us. We are absolutely committed to preaching God's Word."
But several strategic actions that tie back to relationship have occurred over the past few years that Hoffman thinks have played a role in growth. In addition to four campuses in the Virginia Beach area and one in Stuttgart, Trinity most recently opened a campus in the Middle East; a multiethnic campus in Norfolk, Virginia; and an online campus. Those additions opened doors to a vastly larger and more diverse population than ever before. And the people have loved it.
"If I ever want cheap applause on Sunday, all I have to do is mention something that's happened in our Middle East campus or our Stuttgart campus," Hoffman jokes. "They're just highly invested in what's going on there."
The church also made the unusual decision to spend an entire year on a single sermon series that took the church through the entire Bible in order to show how everything is connected. They created a daily devotional guide to accompany it and sermon-based questions for small groups. That unifying force helped people feel connected, since half the congregation is in a small group. That was especially true after COVID-19 hit.
But the church also was intentional about finding more ways to serve its community. About 64% of members serve in some capacity, Hoffman says. "We've tried to put hands and feet to our missions work, not just money. We've become closer and more intimately involved with our local missions partners."
Those partners include a homeless shelter and a crisis pregnancy center. Additionally, the church helps operate basketball camps around the globe through the organization 1Died4All, which uses basketball as a bridge for introducing the gospel.
When COVID-19 hit, and despite taking a hit to its giving, the church created what it calls the Lazarus Fund to raise money for benevolence to those affected financially by the pandemic and to support missions partners hit by it. They also set up a tutoring component for kids out of school and Christian counseling for those affected psychologically. As of July 2020, the church was just $11,000 shy of its $500,000 goal—and that was in addition to regular, ongoing giving.
The common denominator? Church members have had lots of reasons to become really, really excited about their church. They've also worked hard to engage their community. All of that circles back to the thing that meant so much to McWaters when he was battling addiction. And it's what he returns to again and again, especially in this past year: relationship.
"The biggest thing I've learned over the last year is how important relationship is," Hoffman says. "Building relationships, maintaining relationships, and really getting to know people. There's no substitute for it."
—Jessica Hanewinckel
Read More Church Profiles Here »
TRINITY CHURCH
Virginia Beach, Virginia
Lead Pastors: Randy Singer & Scott Hoffman
Website: TrinityChurchVB.com
Founded: 2007
Affiliation: Nondenominational
Locations: 4
Attendance: 1,409
Growth: +147 (12%)
Fastest-Growing: 99