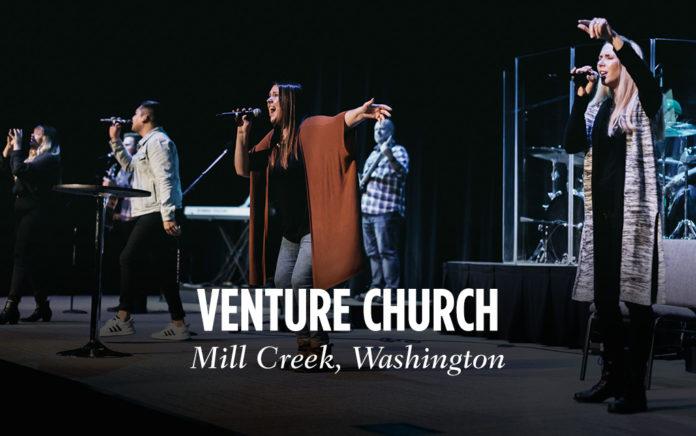 Venture Church bucks the notorious Seattle Freeze.
During his first visit to Venture Church in Mill Creek, Washington, Daniel Carpenter publicly declared his intent to give his life to Christ. Privately, however, he had one foot in the church and one foot out of it. A drug addiction kept him from fully committing his life to Jesus, he says.
"My addictions became worse, and my lies became deeper," he recalls. "I had to tell lies to maintain [my double life]. I betrayed my wife, and I spent all of our money on drugs. There was pretty much nothing left."
When she found out, they separated, and his friends wanted nothing to do with him either, Carpenter says. But Brandon Beals, Venture's lead pastor, stood out as the one person who hadn't cut him off when Carpenter hit bottom seven years ago.
"Brandon really took me on as his disciple," Carpenter says. "He led me week after week."
Beals told him that he couldn't fix him, only Jesus could, and it proved to be a life-changing moment. Carpenter became an ordained minister nearly two years ago and has led the Celebrate Recovery ministry at Venture for five years.
Given Carpenter's story, it's not surprising that Beals says that Venture has grown over the years because it is a relational church that strives to help others. That quality distinguishes it in the Seattle metro area, where residents are "starving for relationship," Beals says. "People are infamously standoffish. It is called the Seattle Freeze, but we [at Venture] are the opposite of that. We are very friendly and outgoing."
Beals also likes to teach visitors that human beings are all created by mission and serve as missionaries in their sphere of influence—be it the Christian community or in the offices of Seattle's corporate behemoths such as Microsoft, Amazon or Costco. "Our church has been doing a good job of showing people that they are on mission, that they are a living for a purpose."
As a pastor in a metropolitan area hit hard by both the novel coronavirus and civil unrest following George Floyd's killing, Beals says he is trying to help people better educate themselves about the issues at hand. He describes the community as very divided. The police killing "brought a lot of things to the surface," he says.
But before Venture had to grapple with the effects of civil unrest in its city, the church faced a crisis of its own. According to Beals, Venture moved locations eight times in 15 years. He feared that the church would never have a permanent home because doing so would require millions of dollars. Last year, however, Venture moved into its own property.
The lesson he learned from the ups and downs of hunting real estate is to hold on to Jesus tightly.
In the past, Venture's lack of space prevented it from expanding. Now, it holds three services in a facility that seats 850 people, allowing for exponential growth of its congregation.
First-time visitors appreciate that when they drop by Venture, "there is no pretense," Carpenter says. "Once you walk in the door, you're in a rich, warm environment that is full of real gospel truth. It's a community where you can learn about Jesus without pressure and judgment."
—Nadra Kareem Nittle
Read More Church Profiles Here »
VENTURE CHURCH
Mill Creek, Washington
Lead Pastors: Brandon & Di Beals
Twitter: @FightPastor
Website: OurVenture.church
Founded: 2004
Affiliation: Assemblies of God
Locations: 4
Attendance: 2,086
Growth: +464 (29%)
Fastest-Growing: 22