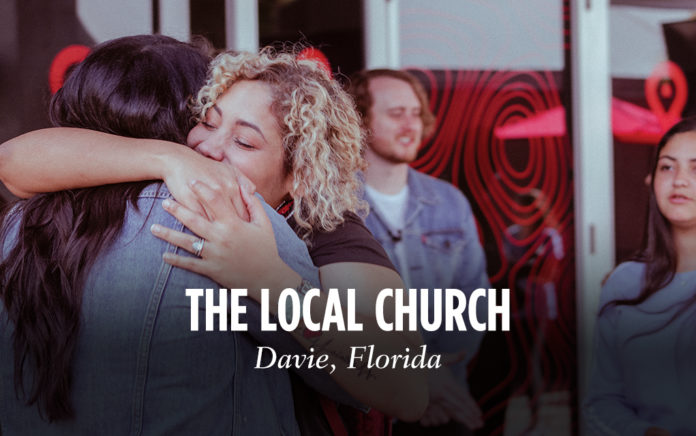 Florida church focuses all its resources on supporting its community.
What's in a name? Well, The Local Church's name says everything you need to know about the Davie, Florida, church's mission and vision. While many churches focus on reaching the lost around the world (and that's a fantastic model that can work just fine), The Local Church has chosen to throw all its weight at its immediate neighbors.
"We want to be a local church that loves and serves our local community," says Lead Pastor Eric Gamero. "So before we go to the ends of the earth, we are making sure we are focusing on our Jerusalem and Judea. We do two things: We live local, and we love local. It's been really a focused approach to our local community."
They go old school, Gamero says, about the ways the church engages with its neighbors. They hold prayer walks around the community, focusing on the 2,000 homes in their immediate vicinity. Several times a year, they'll walk through the neighborhoods letting people know who they are and offering prayer.
"We've built some great relationships," he says. "People have started coming to church [because of that]."
They also support local small businesses that are not already connected to the church. Once a month, Gamero explains, the congregation is encouraged to support a local small business that day. For example, they'll ask people not only to eat at a local restaurant, but also to wear their church gear, bring an invitation to church and, Gamero says, "If you're not going to tip at least 30%, don't go."
"We want to be very generous to people in our community," he says. "They say, 'We don't go to your church. Why are you here? And why are you being so generous?' Because you matter to God and you matter to us. That's how we live local."
And how do they love local? When COVID hit in March, they spent $5,000 a week feeding 300 local families, even partnering with a local farm and local baker to ensure they could both remain in business.
One Saturday a month they encourage members to do an intentional act of kindness for a neighbor before inviting them to church. And once a month, they participate in a City Serve Project, where they meet a local need. At Christmastime, the church raises $40,000–$50,000 to buy gifts for needy kids in six elementary schools through the church's "Helping Kids in Broward" program. The principal of one of those schools has even given her life to Jesus and begun attending The Local Church, Gamero says.
The church also does "Change for a Dollar" events, where they ask members to donate just $1 and then bless someone in need with it, usually a local single mom or elderly person. They've used the money to make big changes in their community, like painting a house or installing an air conditioner.
David Carreño has been a member of the church for several years and serves as an usher and a teacher in the kids' ministry. It's the strong sense of community and the inclusiveness that keeps him coming back.
"That's one thing The Local Church is huge at: how much the church cares about the community," he says. He attends with many members of his extended family, including his Spanish-speaking mother, who has found a home at the church thanks to its translation of services. "It has done a great job integrating everyone and making them part of what we are about: loving God and loving people."
As the leader of a church so focused on its community, Gamero says he's learned that personal connections matter more than the big platform.
"Taking time to talk to people matters more to them than me preaching," he says. "We've always said that the larger we grow, the more we want to make sure we're constantly feeling small and intimate. That's changed a lot of what we've done over the past year. It's a simple thing, but it really is the personal connections that matter to people. You would think it's the cool sermons and the quotable moments, but what people remember is when I call them on their birthday."
—Jessica Hanewinckel
Read More Church Profiles Here »
THE LOCAL CHURCH
Davie, Florida
Lead Pastor: Eric Gamero
Website: TheLocalChurch.com
Founded: 2016
Affiliation: Nondenominational
Locations: 1
Attendance: 1,372
Growth: +192 (16%)
Fastest-Growing: 67