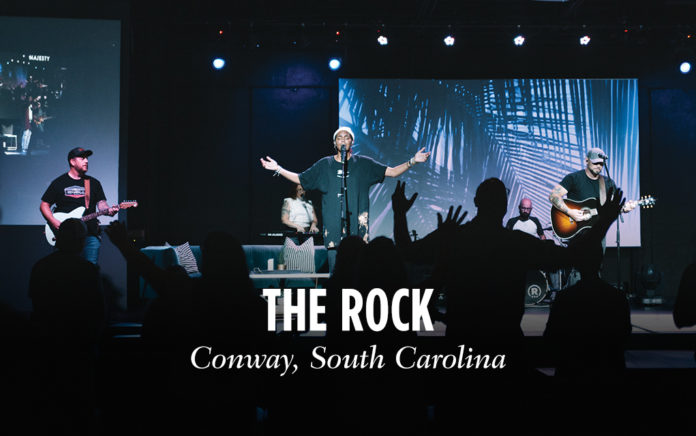 The Rock Church prepares 'this generation' to lead.
Joshua Finklea, pastor of The Rock in Conway, South Carolina, is quick to credit God's grace for his congregation's growth.
"His hand has been on us," says Finklea, who is starting his fifth year as pastor of the 15-year-old church. "He has allowed us to do some things that have resulted in people being reached."
But besides God's grace, the church strives to attract, reach and teach those Finklea calls "this generation."
"We don't use the phrase 'next generation' because we believe that students and kids and young adults aren't 'next,'" Finklea says. "God wants to use them today."
Consequently, Finklea says the church develops programs and makes nearly every decision with "this generation" in mind. The programs include ministries for grade schoolers and middle and high school students that offer curricula and activities to help parents disciple their children.
Moreover, the church trains and places young adults in leadership over small groups and other ministries, he says. Kacie Squires, a 22-year-old senior at nearby Coastal Carolina University, is one example. She started attending The Rock more than two years ago.
"I liked that it was a modern church," says Squires. "That's more attractive to my age group than a traditional church."
She joined the worship team at the church's main campus and also began leading high school and middle school small groups.
"I love that they let the 'this gen' take charge," Squires says. "It meant a lot to me when I walked in there for the first time and was greeted by people my age."
In addition to appealing to a younger demographic, The Rock also aims to attract the unchurched in the area. To do that, they make the services attractive to teenagers and young adults with a come-as-you-are environment and contemporary worship. By doing so, the church consequently appeals to the unchurched 40-year-old as well, Finklea says. And while the majority of The Rock congregants are age 40 or younger, some older adults are members, too, he says.
"By being mission led," he says, "we can really focus on those who are far from God or have walked away from him, helping them to understand that they matter to God."
Furthermore, The Rock operates two nonprofit coffee bars in town.
"The staff strives to develop relationships with the customers," Finklea says. "The coffee bars are just another way we answer the question, 'How can we reach lost people for Christ?'"
In addition, Finklea says church planting is another key to the church's growth. The Rock now oversees six campuses.
"We call it 'creatively placing churches' because all of our churches are creatively done," he says.
For example, The Rock regularly holds Sunday services at a nearby jailhouse and in one of the coffee bars in Conway, a racially diverse, blue-collar town with middle- and lower-middle class residents outside of the fast-growing city of Myrtle Beach.
And with COVID-19 spreading nationwide and the area enduring four hurricanes in the last five years, social ills like financial hardships, substance abuse and divorce are rising in the area. To help, Erik and Rachel Roberts, church members since 2016, launched a recovery ministry last October called Regeneration. The couple leads the group on Tuesday nights.
"It's a biblically based 12-step discipleship program for healing from any type of struggle that people may have," Erik says. "We all have sin habits. There's not just one that we focus on."
Meanwhile, Finklea says that even though the congregants could not physically gather due to the COVID-19 pandemic, the church of Jesus Christ is, nonetheless, resilient.
"When everyone was afraid that the church couldn't gather physically and what would happen to the church," says Finklea, "I heard story after story about how God provided for the body."
—Gail Allyn Short
THE ROCK
Conway, South Carolina
Lead Pastor: Joshua Finklea
Twitter: @JoshFinklea
Website: RockC3.com
Founded: 2005
Affiliation: Nondenominational
Locations: 6
Attendance: 2,523
Growth: +260 (11%)
Fastest-Growing: 77