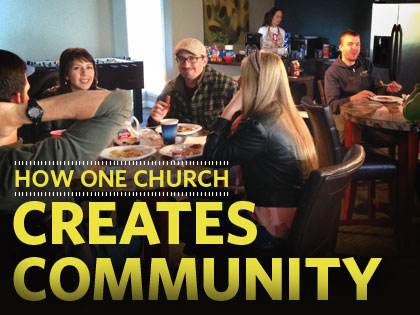 A Dallas church supports missionaries to a hurting apartment community.
On the same day 26-year-old Jordan Bunch moved last fall into an apartment in Austin, Texas, he witnessed cops surround a nearby dwelling for a drug bust.
As time went on, he noticed single mothers with four-plus kids crammed into tiny studios and eviction notices plastered on doors. Rather than feeling discouraged by his surroundings, however, Bunch is emboldened by them.
Bunch, who earned a master's degree in domestic missions at Abilene Christian University, is partnering with Highland Oaks Church of Christ in Dallas, whose members help pay for his living expenses. Their goal? To make the apartment complex their mission field, a "Samaria" to be shown God's love, Bunch says.
Through Highland Oaks, as well as a Dallas-based ministry called Apartment Life, Bunch and his wife not only live in the low-income complex but are given a budget to serve as activities directors and event hosts.
The couple visits new residents with a smile and invites them to barbecues, happy hour at the local dog park, a celebration on National Pie Day and similar gatherings. The activities serve as a catalyst for befriending neighbors, says Bunch, who estimates 95 percent of the complex's residents are unchurched.
"Church can only reach a certain demographic of people," Bunch says. "The large majority of the population, outside of a wedding or a funeral and maybe on Christmas, will never enter a church building."
Bunch says he and his wife don't force prayer or talk of God; they just let the subject arise naturally. Today the couple is known as the "ones who love Jesus," and trust has been forged.
When a neighbor talked to Bunch about life and death struggles, Bunch told him about the hope found at a Christian funeral. When another neighbor shared his hard-luck life story, Bunch shared some inspirational thoughts on Christ.
"Hopefully these relationships turn into discipling relationships," Bunch says, "and we can start Bible studies with people and start churches here in the apartment community that start other churches."