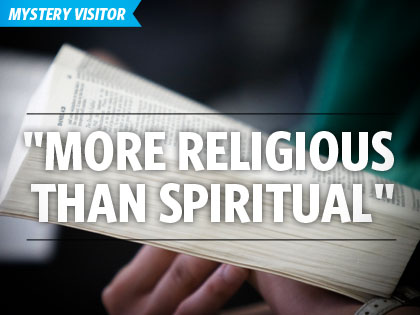 An unchurched person reports on an unannounced visit to a local church. Could it be yours?
A 40-something female visits a 1,000-attendee church in Washington, D.C., on July 28 at 10 a.m.
OVERALL SCORE
* * * *
What was it like when you entered the building?

Friendly, attentive greeters who wore name tags met us at the door. They seemed genuinely happy that we were there. Some people slid in without being greeted.
* * * * *
Was it obvious where the children's ministry was located and that it was clean, secure and well-staffed?
There was no signage for the children's ministry, but I read about it in the bulletin. During the service, the kids attended for a short message then left. The church had a nursery, something for toddlers and an area for young adults. I would have to learn more about the youth program to know if I would want my child to participate.
* * * *
Did you observe anything that would lead you to believe the church values diversity?
I saw great diversity in ages and different cultures represented. They have a great outreach program for teens and younger adults. The older crowd was well represented, but they are beginning to attract a younger group.
* * * * *
Describe the service.

It was not my style of worship. The congregation sang traditional songs out of hymnals. A soloist sang a couple of times but more for entertainment than worship. The pastor shared a relevant message. He didn't read his notes but spoke from the heart. He preached about injustices and defined the world's problems. The sermon lacked a call to action. I kept waiting for the pastor to explain how we could help or how we could pray. He was passionate about his topic, prepared, comfortable and easy to listen to because he shared from the heart.
* * *
Overall, how friendly would you say the church was to you during your visit?
It was pretty friendly. The church didn't have a warm, fuzzy, family-type feeling to it, but the congregation was welcoming. If the pastor had stuck around, I would have liked to talk with him.
* * *
Would you return to the church?
It was fun to visit, and I enjoyed learning about the church's history. I would encourage people to check it out for that reason. It's a liturgical church, which is different from the churches I usually seek out. It felt more religious than spiritual. If I weren't a believer and my life were in shambles, I don't know that I would come back right away.
* * *
Adapted from a report provided by Faith Perceptions, which has evaluated more than 2,500 worship services across the United States. Visit FaithPerceptions.com.