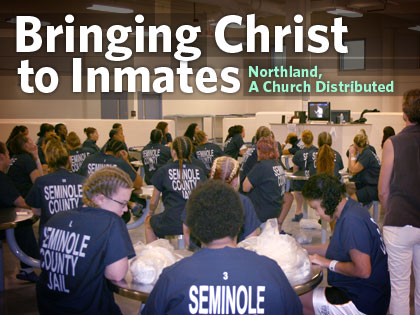 Northland, A Church Distributed, Reaches Behind Bars Through Interactive Technology
Sexually abused as a child, 37-year-old Sanford, Fla., resident Mandy Driggers grew up filled with shame and anger, and she numbed those feelings through drugs. But what started as a casual habit while bartending at strip clubs became a crack cocaine addiction supported by prostitution.
"It fed the sickness, it fed the darkness to me," Driggers says. "There was no way out."
During stints behind bars, Driggers was introduced to Northland, A Church Distributed, a Longwood, Fla., megachurch that broadcasts each of its Sunday worship performances and sermons live inside the co-ed Seminole County jail and another nearby correctional facility for drug abusers.
Volunteers from the church head to the institutions, set up large screens connected to Internet-streaming video boxes to simulcast the sermons, then hand out weekly bulletins to prisoners as they arrive. At the start of the service, Northland pastors welcome those watching from jail. Prisoners are also asked to submit their prayer requests, which are then listed on the church's website.
Driggers, who had visited the brick-and-mortar Northland church with her sister a couple times in the past, says she was drawn to its message of hope while in jail. After she relapsed and was incarcerated yet again, she poured all of herself into a faith-based recovery and credits Northland for the sobriety and peace she has found today. 
Emily Tallman, a Northland service team member, says the central Florida nondenominational church's jail ministry teaches inmates they matter and are loved. She says many are blown away that pastors acknowledge them from the pulpit each week.
"What we have seen from inmates is how they take in that people care about them," she says. "People who come to our jail worship services are people who would have never stepped inside of our walls outside of jail. It breaks down barriers people have toward church."
That technology connects broken families is another benefit, she says, adding, "it's been a blessing to see how God can use technology to do something different, to bring together loved ones in separate places."
In September, Northland hosted a massive simultaneous joint baptism at all its locations for roughly 700 people, including men and women in the jails. Pictures of the baptized were shared among the entire congregation in what church leaders called a "profound" experience.
"That was great for Northlanders who are in a prison," says Nathan Clark, the church's director of digital innovation. "We are both serving the same Jesus, we are both part of the same family. We are the church together, even though we are in different places."
While Northland does not keep statistics on how many inmates end up worshiping at the church nor how many broken families connect through the technology, Tallman says anecdotal evidence indicates there are many success stories.
When prisoners are released and come to Northland, Tallman says, it's like they're "coming home."
NORTHLAND, A CHURCH DISTRIBUTED Longwood, Fla.
Website: NorthlandChurch.net
Lead Pastor: Joel Hunter
Founded: 1988
Affiliation: Nondenominational
Locations: 3
Attendance: 7,500