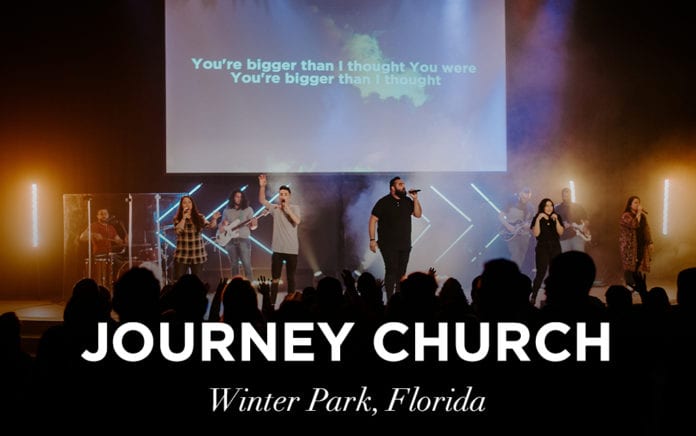 Journey Church Reflects the Power of Team Building
Blame it on prayer.
That's the top reason Journey Church in Winter Park, Florida, has grown exponentially since it launched three years ago, says Executive Pastor Joey Salazar.
"We put God before everything," he says. "We pray for our meetings. We do 21 days of prayer and fasting one time a year, and we have a prayer team."
While prayer has been a huge factor in the church plant's success, it's not the only one. Journey's culture and organizational structure also play roles. Salazar says the church is transparent about its values: know God, find freedom, discover purpose and make a difference. The church also strives to show how much it loves people.
"We are friendly, and that doesn't happen by accident," Salazar says. "We're intentional." A group of volunteers called the Dream Team welcomes people as they arrive, and the pastors encourage churchgoers to take a moment to greet each other during worship services.
Church leaders aren't exalted above members of the congregation, Salazar says, and worship services are held in an easy-to-grasp way. Moreover, Journey clearly communicates next steps for visitors and offers a leadership academy, or full-time internship program, that includes hands-on ministry experience for young adults through Southeastern University.
The church draws a considerable number of students because Winter Park is home to Rollins College, Full Sail University, Central Florida College and other academic institutions. To appeal to this crowd, the church "dims the lights and plays modern songs so they can just enjoy the atmosphere," Salazar says.
But the church isn't just a Generation Z magnet. It also attracts young families and workers from the tourism industry, since nearby Orlando is the home of Walt Disney World and other theme parks.
Community outreach allows the church to connect with people who might not hear about Journey otherwise. On the first Saturday of the month, church volunteers participate in a program called First Saturday Serve, during which Journey has donated free gas cards to low-income communities and helped with neighborhood events, such as marches. The church has also provided labor to families in need.
"One particular family comes to mind," Salazar says. "They needed help moving. It was a single mother with her child and dad who has cancer, so he wasn't able to do a lot of moving or physical labor. A group of us showed up to help move their belongings from the fourth floor into the U-Haul. That was their first impression of Journey Church."
Volunteering requires a team effort, and over the past year, Salazar has recognized the importance of team building in the church in general.
"It's one of the keys to success," he says. "It's not a one-man show or a one-woman show. It's really a community of hundreds of volunteers who've stepped into their purpose. We want to empower as many people as we can."
Ivelisse Matamoros and her husband, James, are examples. Three years ago, the couple served as church volunteers who found it easy to connect with middle and high school students. Today, they are youth pastors at Journey.
"We started with three youth in a living room, and this past May we had over 100 students gathered for our monthly student worship experience," Ivelisse says. "It's an incredible experience to see how God moves within your life when you allow him to."
As youth pastors, the couple's faith has deepened as well. They no longer focus just on their own relationship with God.
"Our relationship with Christ has grown because we realized that it's not just about us and what we take in Sunday after Sunday, but it's about others," Ivelisse says. "We genuinely strive for others to come in and leave feeling new. Not only do I have that mentality on Sundays, but now every day I ask, 'How can I help someone come to know Christ today?'"
—Nadra Kareem Nittle
JOURNEY CHURCH
Winter Park, Florida
Lead Pastor: J.J. Vasquez
Twitter: @JJLVasquez
Website: JourneyORL.com
Founded: 2016
Affiliation: Assemblies of God
Locations: 1
A 2019 OUTREACH 100 CHURCH
Attendance: 1,079
Growth: +595 (123%)
Fastest-Growing: 10