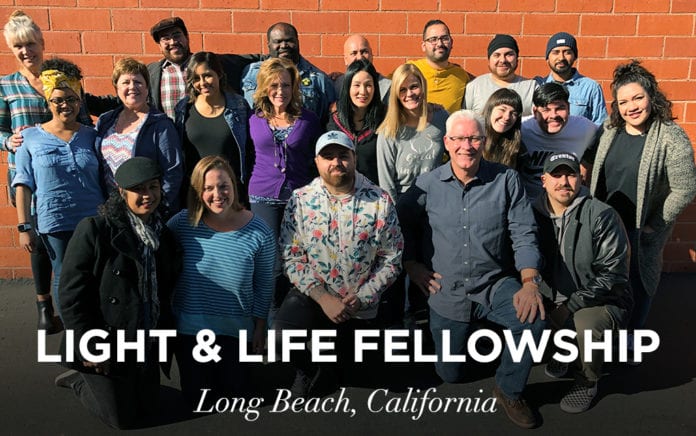 How a Church With 39 Parking Spots Has Reached Thousands
It's hard to believe that a church with just 39 parking spots could be considered a rapidly growing church, but that's precisely what has happened for Light & Life Christian Fellowship, a church planted in 1954 in Long Beach, California. Its membership grew to 100 though it constantly struggled to stay open.
In 1991, the church, which was on life support, contacted Larry Walkemeyer and his wife, Deb, to ask if they would take over leadership.
"We were associate pastors at an affluent suburban church and were rather happy where we were," says Walkemeyer. "My initial response was, 'No way,' but then I heard those fateful words: 'Would you pray about it?'"
Walkemeyer was driving home from seminary class one night when he told the Lord, "I think I'm clear on where you want us, but if you've got something else in mind, please show us."
Moments later, a Steven Curtis Chapman song started playing on the radio with lyrics that said, "We will abandon it all for the sake of the call."
"The voice of the Lord filled my car," remarks Walkemeyer, who then accepted Light & Life's offer.
By 1999, when the church had grown to 800, leadership considered relocating to develop a megachurch. During fasting and praying, however, Walkemeyer and his wife turned to Ezekiel 47 and read about the river flowing out of the temple.
"The farther it goes, the larger and deeper it becomes until no longer can you cross it. Instead, you're carried along by it," says Walkemeyer, paraphrasing verse 9: "Where the river flows, everything will live."
Up until this point, Light & Life had been focused on getting as many people as possible to one place around one pastor. "What God wanted to do was birth a river church where people flow out of the church," says Walkemeyer. "People would come in, get equipped and be sent out."
Walkemeyer notes that we tend to see our cities like a pancake when really they are waffles with little divots that represent different populations.
"We can't just pour the sweet syrup of Jesus and expect it to cover everything," says Walkemeyer. "It needs to seep into each one of those divots."
The pair searched for those divots and planted the first church in their neighborhood, embracing their mission to reach, teach, mend and send. God blessed this plant, and they handed it off to an associate pastor when it was running 150 people. They've since averaged about one church plant a year over the past 19 years and have now planted 22 times.
"Being a river church, we've sent 65 leaders out into vocational ministry as well," notes Walkemeyer. "That whole ethos of sending has really developed in our church."
Walkemeyer admits that throughout the process he's had to face many fears, including the financial logistics of sending 25% of the congregation out on a church-planting Sunday.
"It's scary when that amount of tithe suddenly goes out the door despite our expenses remaining the same," says Walkemeyer. Nevertheless, he insists that church planting is the best strategy for evangelism as studies have shown that new church plants reach unchurched people at a higher rate than existing churches.
"If our heart is to reach the lost, then church planting becomes a high priority, because it's the way to reach the highest number of lost people," says Walkemeyer, who observes that churches often look for charismatic leaders who will attract the crowds. The reality, however, is that seeking those who feel comfortable leading a church of 20 to 50 will increase the overall harvest, thus benefitting the church overall.
"Switching to a disciple-making model causes the church to be externally rather than internally focused," says Walkemeyer. That's key because the larger the church, the more dependent it is on volunteers. "It's easy for a pastor and his leadership team to become focused on volunteer recruitment rather than disciple making that sends and mobilizes believers to be everyday missionaries where they live, work and play."
Light & Life Christian Fellowship has reached multiple thousands of people and yet they still have just 39 parking spots. That's faith at work at its finest.
—Christy Heitger-Ewing
LIGHT & LIFE CHRISTIAN FELLOWSHIP
Long Beach, California
Lead Pastor: Larry Walkemeyer
Twitter: @LarryWalkemeyer
Website: LLCF.org
Founded: 1954
Denomination: Free Methodist
Locations: 1
A 2019 OUTREACH 100 CHURCH
Attendance: 800
Reproducing: √