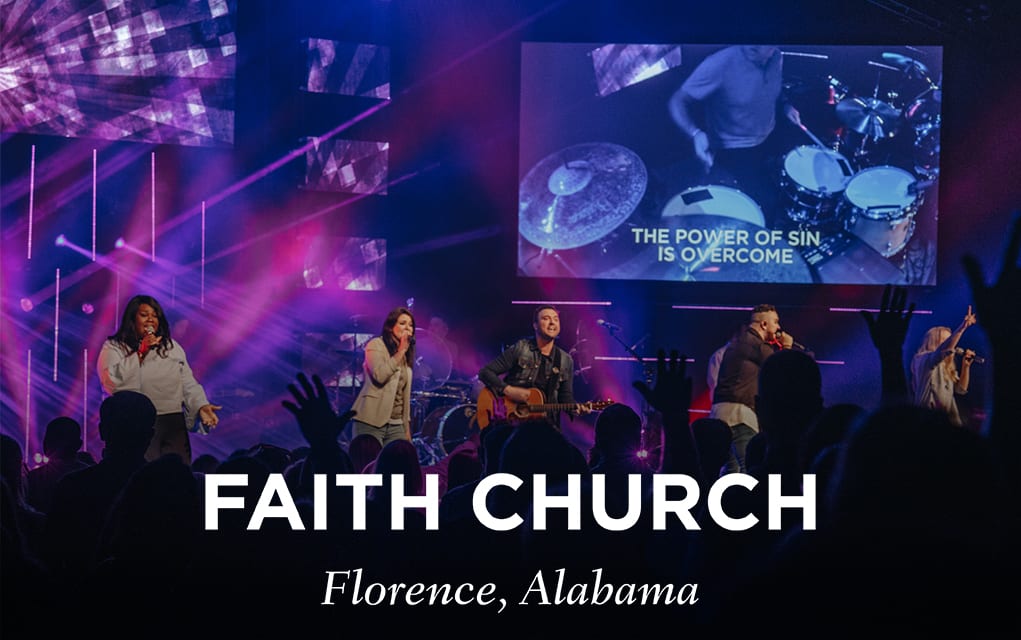 Faith Church Stays True to Its Core Values.
In 2017, Tammy Bradford and her family experienced devastating storms, both physically and spiritually. That year, as her 52-year-old husband battled stage 4 lung cancer, they began searching for a church. Then one Sunday, their youngest daughter contacted them after visiting Faith Church.
"She said, 'Mom, you need to get online and listen to this service,'" Bradford says. Bradford logged onto Facebook Live and watched as Faith Church's lead pastor Steve Huskey preached a message about faith and Jesus being a believer's anchor.
"It connected with everything that I was going through at the time," Bradford says. "I knew that I just had to go and be in a service."
The congregants' friendliness impressed her so much when she visited that Bradford eventually joined one of the church's connect groups, a gathering of women who met every other Friday night for fellowship and fun.
So when a storm blew across the couple's farm last November and uprooted trees, several of which fell across their driveway, Bradford messaged the group. "I told them, 'We're stuck.'"
Within 15 minutes, someone responded that church members planned to come to help with clean up.
"At 1 p.m., there were pickup trucks and men with chainsaws and women and children cleaning up," says Bradford.
After that, she attended Faith Church more often. Over several months, men from Faith Church often visited her husband. In the spring, he was baptized at the couple's home, weeks before he succumbed to the cancer.
"Instead of just church," she says, "it's family."
Located in Florence, Alabama, a city that overlooks the Tennessee River, Faith Church strives to reach people and connect them to God and others. Staying committed to the church's core values, says Pastor Huskey, is one reason for the church's growth.
"We've been very intentional with our core values," he says. "We budget around our core values. We plan around our core values. We schedule around our core values." The church, for example, supports members in establishing connect groups that center around certain hobbies or interests—from Bible studies and walking groups to disc golf and mom-and-me outings—to encourage fellowship among themselves and with others in the community like the Bradfords.
Additionally, Huskey says the church organizes teams to volunteer at local nonprofits and to clean up storm debris from roadways. One group even paid for strangers' lunches at a restaurant. Encouraging members to serve, says Huskey, supports retention.
"If people know they're loved and that they have a role to play," he says, "they'll stay locked in."
Huskey also praises the church's staff for helping to foster the church's growth. "We have a rock star staff who understands the vision and is committed to do whatever it takes to help us move forward."
Naomi Smith, the assistant children's ministry director, started volunteering with the children's ministry not long after she joined the church as a teenager. She credits the department's leaders with mentoring her through the years.
"The leadership at Faith Church is absolutely phenomenal," says Smith. "They pour into their volunteers as much as they can to build up leaders."
Huskey says the church now has a school of ministry to develop a pipeline of ministers for the church. The school recently celebrated its first graduating class and most of the graduates will work at the church's second campus in Lawrenceburg, Tennessee.
"Having well-trained, gifted leaders in the right place is important if we're going to grow and reach people," he says.
The church decided to open the second location because nearly 150 congregants regularly travel from Lawrenceburg to the Florence church. "It's a city that's growing economically, and we're trying to get ahead of the curve," Huskey says.
Meanwhile, Bradford says she is participating in Faith Church's Next Steps program and plans to join the congregation.
She says, "I feel like I'm already a member."
FAITH CHURCH
Florence, Alabama
Lead Pastor: Steve Huskey
Website: IGoToFaith.com
Founded: 1957
Affiliation: Nondenominational
Locations: 2
A 2018 OUTREACH 100 CHURCH
Attendance: 2,092
Growth: +225 (12%)
Fastest-Growing: 77