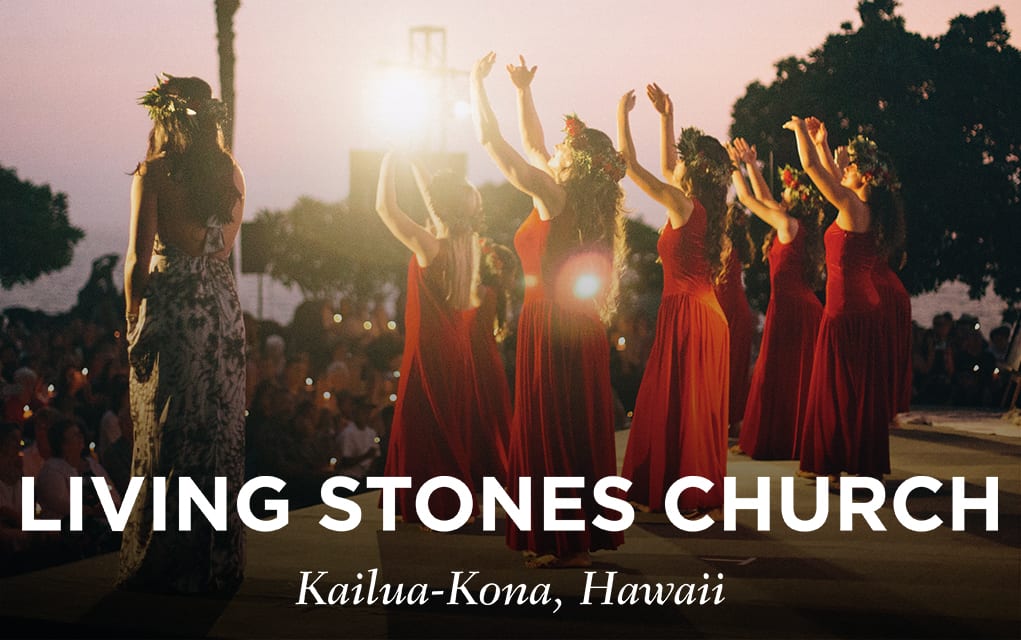 An Emphasis on Prayer and a Tropical Location Set Living Stones Apart.
Overlooking the Pacific Ocean, Living Stones Church sits on a site in Kailua-Kona, Hawaii, that many would describe as paradise. But Senior Pastor Bill Barley didn't always have a favorable view of the church's setting. The stone building it calls home dates back to 1855 but only accommodates 130 people. It lacked restrooms and enough parking, and the staff feared these missing amenities would deter churchgoers from attending.
"We basically bemoaned what we didn't have," Barley recalls. Eventually, however, "we shifted our thinking from what we didn't have to what we do have, to what we could do."
This change in perspective led the team to come up with some innovative ways to expand its reach, Barley says. The staff multiplied the number of worship services held each Sunday and used the back lot for Sunday school and to seat 400 additional worshippers who watch the sermon projected on an outdoor screen. The church later acquired 10 more acres of land, which allows for more parking.
"We're a portable church in a permanent location," Barley says. "There's a crew that comes in every Sunday and sets up everything."
While the church's physical limitations inspired the staff to get creative about the space available, their spiritual approach to church growth has also made a difference, according to Barley. He says the team has built a culture of faith on sound doctrine and the power of the Holy Spirit, encouraging the congregation to keep exercising their faith.
Additionally, the church fasts and prays together annually. Fasting can take the form of abstaining from solid foods, drinking only water or taking a social media break. The church does not set requirements for what constitutes fasting, Barley says.
"We start our calendar year with 21 days of prayer and fasting," Barley says. "We want to encourage people that being a Christian is strange. We tell people, 'Don't be weird but don't hide being strange."
Jodi Coetzee, who has attended Living Stones for nine years, says the church's emphasis on prayer moved her when she first visited with her husband, Christian, and his parents. The Coetzees now oversee the church's high school and junior high ministries.
"At the time and even now, there was such a strong emphasis on the Holy Spirit healings happening in the church," she says. "That really challenged our faith. It really set this church apart from other churches we had been attending."
Living Stones provides freedom sessions, prayer times for individuals led by trained teams. The sessions aim to help release people from their mistakes or the areas they feel have held them in bondage, Barley explains. Those prayed for hear biblical truths rather than the lies they've told themselves about a particular problem or concern.
Prayer and reflection play important roles in Barley's personal approach to spiritual leadership. He sets aside large portions of time to simply listen to God to stay centered. He's also learning to delegate more, focusing on his talents while letting staff take the lead in other areas.
"The less I do, the more other people can do," he says. "I'm a control freak, so this is something I struggle with."
Coetzee applauds Barley for spending so much time seeking the Lord. She says his example motivates churchgoers to "be Jesus to the person in front of you." She attributes the church's growth to the relationships people form there. At the church she attended prior to Living Stones, Coetzee says she never felt connected. At Living Stones, though, visitors receive the message that there's room for them, she says. "You're part of the family."
Because the church sits in a tourist destination, Living Stones often receives a few hundred visitors weekly, and the staff prepares to make them feel welcome. As for the main body, the congregation is racially diverse, made up of Caucasians, native Hawaiians, Asian-Americans, and multiracial worshippers. Given that Hawaii is also religiously diverse, with residents holding on to traditional indigenous beliefs, Buddhism or New Age practices, Barley is accustomed to reaching across religious lines. He says doing so requires listening as well as addressing the ultimate question: What is true?
"The way the gospel is presented, it's inclusive to all people but exclusive in that it excludes any other competing beliefs that try to stand beside it," he says. "It's as simple as that."
LIVING STONES
Kailua-Kona, Hawaii
Lead Pastor: Bill Barley
Website: LivingStonesChurch.com
Founded: 2002
Affiliation: Nondenominational
Locations: 2
A 2018 OUTREACH 100 CHURCH
Attendance: 1,499
Growth in 2017: +149 (11%)
Fastest-Growing: 100