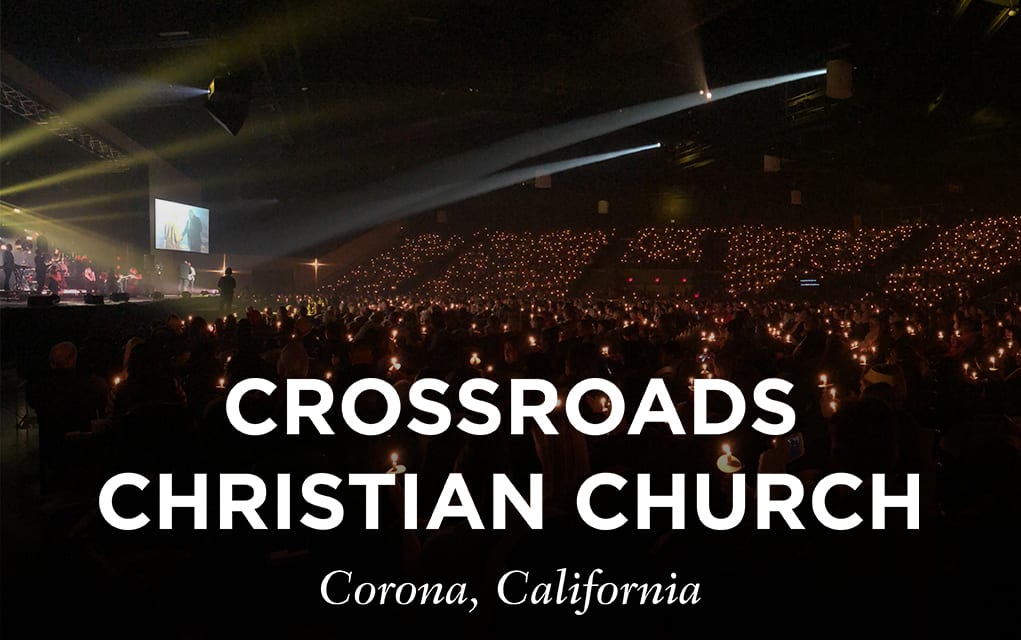 A Season of Intense Prayer Leads to Growth at Crossroads.
Chuck Booher, senior pastor of Crossroads Christian Church in Corona, California, knew he and his staff needed to turn to prayer when church attendance hit a wall in 2016.
"We had stagnated or stabilized," he says. "We weren't moving forward, so I gathered our staff together and said, 'I want you to think about one thing to pray about every single day.'"
After three months of intense prayer, attendance started to rise. An additional 500 to 1,000 visitors came to Crossroads each weekend. The shift occurred during the summer, a season when church attendance typically drops. Given this, Booher says he knows the spike in visitors came from God.
In addition to asking his staff to pray, Booher challenged the congregation to study the ministry of Jesus daily.
"We were laser-focused on Jesus—what he did, how he interacted with others, when he was baptized, tempted, all the way to his crucifixion and resurrection," Booher says. "We continued that by studying the book of Revelation for 19 weeks straight."
This focus on Scripture helped the congregation better understand Jesus and his mission, but Booher wasn't content simply deepening the faith of the current attendees. He wanted to reach the next generation of worshipers, the young people in his racially diverse community about an hour's drive from Los Angeles.
The staff examined the demographics of Corona and its surroundings, finding that about 130,000 young people lived within a 10-mile radius of Crossroads. Just 3 percent of them attended church, however. Booher set out to increase the number of young churchgoing people in his community to at least 10 percent over the next six years.
"We have to equip, empower and energize our leaders, including our next generation," Booher says.
With this in mind, Crossroads reached out to schools. Church leaders found out what needs families at an underserved junior high school had and provided academic resources such as computers. They even treated teachers to food from In-N-Out Burger.
Laura Manuel, a Crossroads worship leader who also oversees outreach to college students and young adults, says the church tries to get the 20-something crowd plugged in at the church by connecting them to small groups.
"When you reach that age, everything is more relationship-driven," she says. "So, we just build relationships with people. We just try to be there for them. That's how they've been connected."
Serving a community that includes people from all walks of life has led Crossroads to develop a number of ministries focused on outreach. A prison ministry, now on hiatus, lent support to the family members of the incarcerated. Through its adopt-a-block program, Crossroads chooses an underresourced neighborhood in its community and organizes fun activities for children, cleanups and door-to-door meetings with residents to discover how the church can meet any needs.
The Inland Empire, the region the church calls home, isn't necessarily low-income, but the 2008 recession hit it particularly hard. The area saw record numbers of foreclosures and is still rebounding from the economic downturn of a decade ago.
"This whole area tanked," Booher says. "But we're actually growing again. There are all of these new subdivisions."
The outreach the church has done for young people and vulnerable families has resulted in several families getting to know Christ, according to Booher. Overall, Crossroads includes a distinct mixture of worshipers—those who've grown up Christians and those still getting accustomed to church.
Manuel says it's a treat to see people who may not know the ins and outs of Christian culture navigate worship services.
"We've been reaching a lot of unchurched people," she says. "It's been really interesting because some people don't know church etiquette—and that's a good thing."
For example, they may not understand the cues that longtime Christians take for granted, such as when to sit or stand during worship. The concept of giving an offering may confuse them, though no one's pressured to give.
"We're reaching brand new people, and we get to love them," Manuel says. "Worship is kind of like this spectrum of nonbelievers and believers. We're teaching the nonbelievers what all of church looks like and teaching the meaning behind it."
CROSSROADS CHRISTIAN CHURCH
Corona, California
Lead Pastor: Chuck Booher
Twitter: @CrossroadsCA
Website: CrossroadsChurch.com
Founded: 1892
Affiliation: Independent Christian Churches
Locations: 1
A 2018 OUTREACH 100 CHURCH
Attendance: 5,617
Growth in 2017: +1,077 (24%)
Fastest-Growing: 12
Largest: 93