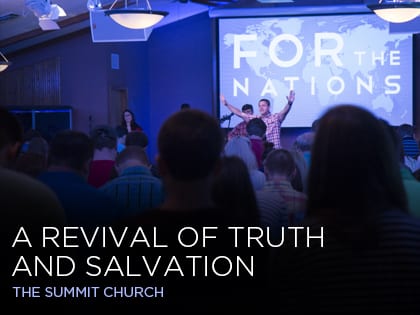 The Summit Church in Ark. Embraces "Multiethnic, Multieconomic Mix"
After members of The Summit Church in Little Rock, Ark., prayed during a 40-day fast that God would manifest himself in a whole new way, the church witnessed something exciting. Every night for five solid weeks, folks flooded the church with the desire to be baptized.
Senior Teaching Pastor Bill Elliff did the math. "If 600 churches in central Arkansas saw the same measure of activity we did in those weeks, over 30,000 people would engage in Christ," says Elliff, who notes that such a revival is just the kind of thing our lost nation needs right now.
Elliff says that the experience beautifully demonstrated what can happen in the presence of the Lord. "Prayer became foundational instead of peripheral," says Elliff. "The men and women of this church are pretty meticulous about asking in every environment, 'Is God there? Did he show up?'"
Elliff makes clear that the church is not interested in creating programs for programs' sake. Everything the congregation does is in order to have an encounter with Christ, and that's precisely what draws people to The Summit Church.
A lot of the growth has come from church planting and multisite development. They tried one site that didn't go, but they learned from that failure just how critical it is to have the right leaders in place. They recently successfully planted a church and will plant another in 18 months.
In recent years, members have embraced the "E3 model," which helps people 1) experience Christ, 2) equip them for life in ministry and 3) engage with the world.
Located on the outer loop of Little Rock, the city encompasses varying demographics. On one side of the church is the fastest-growing suburban community in the state; the other side is home to multiple impoverished communities.
"I embrace our multiethnic, multieconomic mix," says Elliff. "Because God put us there."
When the church first opened 16 years ago, it was located in the wealthy part of West Little Rock, but when they outgrew the facility, the only building they could find was an event center located in a rough part of the community. "God placed us there because we needed to have our feet in both worlds," says Elliff. "It keeps us humbled and focused on the least of these."
Because the congregation consists of both homeless people and professionals, prejudice doesn't breed. As a result, The Summit feels like a "grace place" that offers a balance of truth and grace that folks soak up like a sponge.
THE SUMMIT CHURCH
North Little Rock, Ark.
Senior Pastor: Bill Elliff
Twitter: @BElliff
Website: TheSummitChurch.org
Founded: 1998
Affiliation: Southern Baptist
Locations: 2
A 2015 OUTREACH 100 CHURCH
Attendance: 1,348
Growth in 2014: +279 (26%)
Fastest-Growing: 48