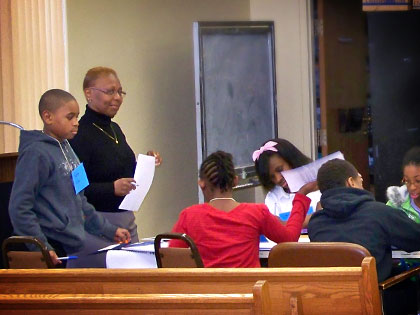 Chicago churches band together to assist youth with conflict resolution and studies
Pastor Alvin Love of the 800-member Lilydale First Baptist Church in Chicago laughs when he recalls the success of a once troubled teenager who participated in the church's tutoring program.
"His whole family had challenges," says Love, "and he was on the verge of just starting to get into trouble. But once he got into the program, he got in church. Now his grades are great, and his life is changed."
The tutoring program is one of several initiatives by the African-American Organizing Table, a network of 10 churches on Chicago's South Side. Love, its president, and other pastors established the network following the 2009 videotaped beating death of Derrion Albert, 16, an innocent bystander in a brawl between rival teens. The case captured national attention,
Love says he and other pastors began discussing how they could help the city's youth. Weeks later, they formed the network, which in 2010 established a program offering conflict resolution counseling and tutoring to high school students on suspension from school. The goal was to keep them out of trouble and maintain their studies. Of the 170 students in the program, only 17 earned a second suspension, Love says.
As a result, Love says, several grateful families have joined a local church. "It's a great outreach tool," he says. "Families want to see what else you're doing and get involved."