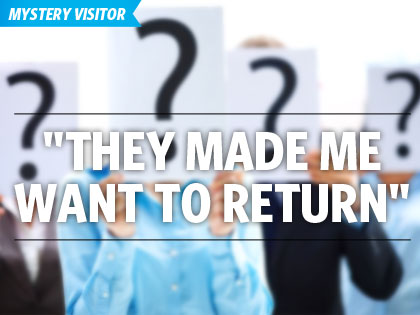 An unchurched person reports on an unannounced visit to a local church. Could it be yours?
—A 20-something female visits a 750-attendee church in Palm Bay, Fla.
OVERALL SCORE
* * * *
What was it like when you entered the church building?
No one greeted me as I entered. It was quiet, and the band was setting up. No one acknowledged me for a while. A woman finally approached me. She was very polite and informational.
* * * *
Was the location of the children's ministry obvious, and was it was clean, secure and well-staffed? 
The location wasn't obvious. I found it in a building next to the worship area. I would feel very comfortable leaving my child there, since there were plenty of staff and activities for them. I especially appreciate that it was clean and had a very positive atmosphere.
* * * * *
Did you observe anything that would lead you to believe that this church values diversity?
During the sermon, the pastor explained about different ethnicities coming together as one and how important that is. Also, the church helps raise money for the poor to have shelter in the winter and works to help children succeed in life.
* * * * *
Describe the service.
The music was contemporary and very uplifting. Right after the music ended, we were asked to introduce ourselves to others in the room. Some people were hesitant toward me and behaved somewhat strangely when they were greeting me. I'm assuming it was because I was new. The sermon was about the right and wrong ways to pray. It was very stimulating. The pastor was very engaging and easy to listen to.
* * * *
Overall, how friendly would you say the church was to you during your visit?
People were very nice and offered information about what goes on at the church and other services they offer. I felt welcomed.
* * * * *
Would you return to this church?
I would come back because of the positive impact they strive to bring to others and the community. I would recommend this church to families, especially since they cater to children and teens with the array of teachings and activities. I would recommend this church to every age group because it maintains a good balance that appeals to all ages. I would just make it easier for new visitors to get information about the church and what they offer.
* * * *
Adapted from a report provided by Faith Perceptions, which has evaluated more than 1,000 worship services across the United States. Visit FaithPerceptions.com.