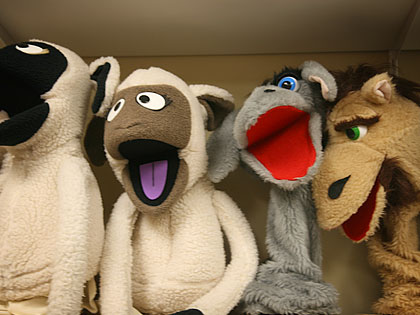 Share the Gospel in an entertaining way.
Youth from University City United Methodist Church in Charlotte, N.C., spread the Gospel message through the His Hands Puppet Ministry.
Designed for teens in grades seven through 12 to participate, the ministry uses puppets to teach lessons about praise, forgiveness, love and the dangers of sin. Puppeteers take mission trips every summer to perform at churches, women's shelters, day care centers, senior citizens centers and nursing homes across North Carolina. Past mission trips have included visits to almost 30 states as well as Canada and England.
Kyle Caldwell, 16, still remembers the joy on the faces of mothers and children at a women's shelter in Virginia where he and the other members of His Hands Puppet Ministry performed five years ago. The audience, he says, clapped and sang along for almost the entire show.
"As we packed up to leave, all of the children came up and gave us a hug," Caldwell says. "That was the first time that they got to see something like that, and they just really enjoyed it. That was really touching."
Caldwellsays he and the other puppeteers come up with ideas for the shows and rehearse every Wednesday for two hours. The shows feature puppets mouthing the words to prerecorded songs that may include traditional hymns, contemporary Christian and Christian rock music, and humorous parodies of popular songs.
"We want to show God's message in a different and interesting way," Caldwell says. "With puppets, it's not like someone who is just giving you a sermon."
Caldwell's father, Ken Caldwell, one of three His Hands Puppet Ministry adult co-leaders, says the teenagers are gaining valuable insight into what it takes to be in ministry.
"They're doing something that takes a lot of time and a lot of commitment," he says. "But they're making a positive impact on someone else's life."
A version of this article originally appeared in the November/December 2011 issue of Outreach magazine.