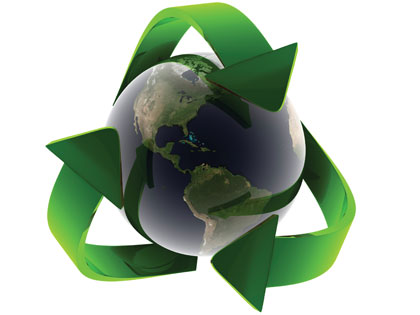 Connect with local residents and businesses with an event that raises environmental awareness.
Kermit the Frog sang, "It ain't easy being green." Westminster Presbyterian Church in downtown Paducah, Ky., shows it isn't that hard either. The 125-year old congregation wanted to reach out to the community in a unique way. When the Rev. Pamela Gordon became the church's pastor in January 2010, she, too, was looking for ways to engage her new community. With about 50 attendees on a Sunday morning, Westminster Presbyterian needed a low-cost, manageable project.
"When I saw the ecological fair idea in a church leadership magazine, I thought we could do that," says Gordon, who is no longer pastor at Westminster.
Gordon emailed church members, proposing that the church conduct its first-ever ecological fair. About a half-dozen individuals volunteered to form the church's "Green Team" to plan the event. After three months of preparation, the Eco-Fair premiered on a hot, humid Saturday afternoon in June. From 1 p.m. to 4 p.m., about 20 people dropped into the church fellowship hall, where the fair featured six local business exhibitors, free ice cream, door-prize drawings and lots of discussion on how to live healthier, greener lives. One couple who walked in that afternoon had just moved to Paducah and said they were looking for a new church, Gordon says.
Here's how they did it:
1. Assess member interest. Gordon simply emailed her congregation with the idea, and enthusiastic volunteers responded. The Green Team started planning in March for the June ecological fair. Their job included designing the event, recruiting exhibitors, creating publicity and hosting Eco-Fair attendees.
2. Recruit green-living exhibitors. The planning team successfully recruited the local Honda automobile dealer, who delivered a brand-new hybrid Honda Insight to the church. The community health food store displayed locally grown fresh vegetables. The Paducah Kroger grocery store donated 150 recyclable grocery bags for giveaways to attendees. A local bicycle shop displayed bikes as an alternative means of transportation.
3. Get the word out. The church had not budgeted for the Eco-Fair, so advertising and promotion had to be cheap. "We bought a ream of paper to make fliers, a few pieces of poster board and some markers, and that was it," Gordon says. The team also contacted the local cable channel, the newspaper and an Internet site that promotes local events. But the big drawing cards were the hand-drawn sidewalk sandwich boards church members made that invited passersby to attend the Eco-Fair and to enjoy some free ice cream on a hot summer afternoon. "The ice cream is what pulled people in," Gordon says, "and it was donated by a church member who owns the local Dippin' Dots franchise here." The total church expenditure for the event was less than $10.
4. Engage those who attend. Along with the exhibits and giveaways, Gordon led a hands-on workshop on making home cleaning supplies from baking soda and common household products. A book discussion of Barbara Kingsolver's Animal, Vegetable, Miracle drew enthusiastic participation. And the couple who was looking for a church got to talk to Gordon. "This shows them we're not just here on Sunday," Gordon notes.
"Evangelism should be fun," Gordon says. "Jesus met people where they were and provided something for them. That's what Jesus did, and that's what we're trying to do too."
This article originally appeared in the September/October 2010 issue of Outreach magazine.