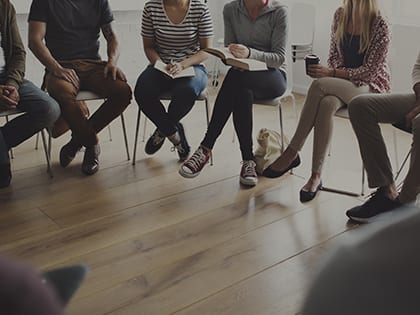 Relationship Makes All the Difference
Director of Connections and Outreach Ronnie Kinsey Shares How Relationship Makes All the Difference
How is Turning Point engaging people?
We try to communicate to people that Sunday's great and everything, but man, you'd never build a football team and score a touchdown and not kick the extra point.
We feel there are four parts that make us: knowing God—we do that with Sunday services; finding freedom from the past—that's done in small groups; discovering our purpose, which we do in our Next Steps class; and making a difference through serving.
How are you helping them "kick the extra point"?
No one wants to do a blind draw. They're borderline terrified. So, if they can meet the small-group leader or the person they'll serve with on the front end, it makes a difference and it gets more people to buy in to it.
What does that look like for small groups?
We hold three small-group rally days each year—spring, summer, fall. It's all day Sunday. We talk about life groups and finding freedom in them. And then the actual small group leader will be in the lobby behind the table. This is a challenge for us because we have a lot of small groups. But we do it because we know it's hard for people to sign up not knowing anyone. People think, "Who's the leader? What are they like? I don't want to go to a stranger's house." Now the leader isn't a stranger. You met them and talked to them.
And for serving?
Week 4 of our Next Steps class is all about getting people plugged in to serving. After they've taken their personality and gifts tests, we have all 28 serving opportunities represented with their respective leaders. We give attendees a list of all the spots and say, "Look at those, check them out, think about them. This isn't about what our needs are. Which ones do you want? These 28 point-leaders are standing in the room now." Then we give them time to go to the leaders of their top three choices. They get to meet the person, connect with them, hear about the vision of that team, why it'd be great, what it's like. So, they leave going, "Man, I didn't know I wanted to serve, but I met the point-leader for ushers, and he just made an impression on me. He was great." They sign up.
What other personal touches do you do?
The people serving in our Green Tent—where we direct first-time guests—grab a stack of thank-you cards and do handwritten notes to the people they have met, including in the note something personal that came up in the conversation. At first I thought the people who serve in the Green Tent may not like having to write all these notes, so I went to the team leader. He told his team about the idea and they loved it. Usually about Wednesday—after you've already gotten a phone call from one of our interns on Monday—you get a note from the very person you talked to on Sunday.
What's been the feedback on your strategy?
The one thing I hear the most is, "Wow, I never knew people cared this much. The fact that a human being cares this much … somebody called me on Monday after I went to church. The person I met in the Green Tent sent me a postcard. If people love me this much, then the God and Jesus you're talking about … I know he loves me." That's a click. We're representing who God is.
TURNING POINT CHURCH
McDonough, Georgia
TurningPointChurch.tv
Launched: 2003
Average Weekend Attendance: 1,939
Growth in 2015: +392 (25%)
Lead Pastor: Michael Turner
Affiliation: Independent Christian Churches
Connection Points: 730 people serving each Sunday (1/3 of attendees)
A 2016 OUTREACH 100 CHURCH
No. 54 Fastest-Growing
Click here for more on how churches are moving people from being passive observers to active participatnts in the life of the church »