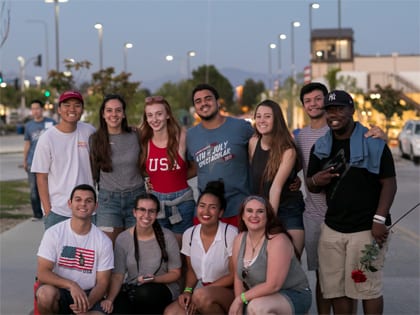 No. 3 Fastest-Growing: Shepherd Church in California Teaches That Peace Comes From Knowing Jesus
After years of holding services in a landlocked building that seated 1,400 worshippers, Shepherd Church in Porter Ranch, California, saw its congregation jump more than a third after moving to a new worship facility that seats 3,500.
"The synergy has been off the charts," Senior Pastor Dudley Rutherford says.
While its expansive grounds have helped the church accommodate more worshippers, Rutherford says Shepherd's uncompromising preaching of the Bible keeps churchgoers coming back.
"We do not sugarcoat anything, nor do we shy away from talking about issues most people avoid for fear of being politically incorrect," he says. "In a world that believes there are many roads that lead to heaven, we make it clear that the Bible teaches there is only one road—and it is a difficult yet doable road—that comes by fully committing to and trusting in God's only Son, Jesus."
On the outskirts of Los Angeles, Shepherd also stands out for being racially diverse. Rutherford says that for 30 years the church has been almost dogmatic about ensuring that its platform, staff, leadership and curriculum reflect society. The church is roughly 25 percent Latino, 25 percent Asian-American, 25 percent white and 20 percent African-American.
"We are probably the most racially diverse church in the San Fernando Valley," Executive Pastor Tim Winters says. "When [churchgoers] look at the stage, they see someone who looks like them, whether it's black, white, Asian, Hispanic, old, young. We've been very intentional about that."
In addition to reaching out to a wide range of demographics, Winters says Shepherd has attracted a number of people who work in the entertainment industry.
"We have a heart for Hollywood," Winters says. "If you can change Hollywood, you can change the world. That's why we end up having a lot of industry people here."
Despite the vast number of entertainment options Southern California offers, Rutherford believes people still yearn for spiritual fulfillment.
"We are a city where people have seen it all, done it all and heard it all," he says. "They are looking for a place that meets and fulfills their deepest need. A life away from God leaves people empty, broken and scarred within. Our church believes that there is hope for all and that hope and contentment come from knowing God's one and only Son."
Keith Sawa, who has attended the church since the 1990s, says that Rutherford's passion for unbelievers has spurred Shepherd's growth. Sawa has met people from all walks of life at the church, including former gang members, he says. Both he and Winters point out that the church's annual Fourth of July celebration attracts thousands of community members, as well.
When newcomers attend services, they often mention the worship, Sawa says. "You always hear probably the most amazing worship that you'd ever hear in a church," he says. "They have a very deep pool of talent. It is pretty amazing. It's almost a concert."
Sawa adds that visitors also appreciate the array of ministries at Shepherd, including one specifically for men and a recovery group for former addicts.
Rutherford says that throughout his years as leader of Shepherd, which opened in 1995 after a church merger, he's learned that God's timing is always perfect.
"We are always in a hurry because time is fleeting for us, but God—who is able and works outside the space-time continuum—has a plan to accomplish his will according to his eternal nature," he says. "Our job is to listen for his voice and instruction and then lead the church to follow his voice and command. We all are here for a season, and God has purposed for us to be faithful to our generation."
Read more Outreach 100 fastest-growing church profiles »
SHEPHERD CHURCH
Porter Ranch, California
Senior Pastor: Dudley Rutherford
Website: ShepherdChurch.com
Twitter: @PastorDudley, @ShepherdChurch
Facebook: /ShepherdChurch
Founded: 1995
Affiliation: Independent Christian Churches
Locations: 4
A 2017 OUTREACH 100 CHURCH
Attendance: 10,555
Growth in 2016: +2,243 (27%)
Fastest Growing: 3
Largest: 34