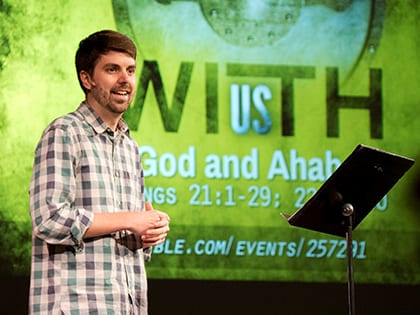 No. 72 Fastest-Growing: Christ Community Church's Pastoral-Residency Program Leads to Growth in Kansas and Missouri
Founded by Senior Pastor Tom Nelson in 1989, Christ Community Church in Kansas has "a heart to serve all of our city, and at that point [in 1989], no one could have imagined what it would look like," according to Nathan Miller, senior pastor of congregational development.
Miller says that one of the most significant moments in the life of the church was in 2005, when Nelson and the team decided to launch a pastoral-residency program. Miller is a product of that two-year program, which accepts a pair of young pastors each year for mentoring and training. Not all of the residents stay, but Miller did.
The church's original campus is located in the Kansas City suburb of Leawood, about two blocks from the Kansas-Missouri border. After the church had developed a crop of young leaders, the next logical step was to get them into action. For Christ Community, that meant launching a satellite campus with the trainees as its core team. Miller says the church doesn't rely on video for the satellite campuses, but preaching comes from campus pastors who are selected from the program. He oversees the Kansas campuses in Olathe, downtown Kansas City, Brookside and Shawnee Mission.
This commitment to multisite development and church planting is a philosophical shift that led to church growth, says Miller. "Instead of asking people to drive to us, we decided to bring the church to them, putting the church in their community where they can invite their neighbors and co-workers," he says.
Each campus is committed to the community around them, which has gained the church a reputation for being present and with its people. "Maybe it's taken some of the stigma of 'big church' away," says Miller.
Of course, this model of multiplication would not work without the right leadership. According to Miller, Nelson demonstrates a radical humility. "That spreads throughout the entire organization," Miller says. "Congregation members notice that. Some of them don't even know who Tom is, and he's OK with that."
Miller says this climate of humility creates a greater sense of teamwork and camaraderie. "The mission of Jesus is more important than any vision or ego or any human look at success," he says.
Alongside humility, one of the primary teachings at Christ Community is that each member is empowered to their own mission, which is tied to a person's work. "The job they do Monday through Friday is just as important as the job I do on Sunday," Miller says. "The No. 1 place that they love their neighbors is at their job."
We are so happy that we found a place to fit in, a church that is honest and open, that accepts everyone," says Ashley Thornton, a member of Christ Community. "I have never experienced church like this before, and I honestly enjoy it."
Thornton is an example of how this church community is making a difference in people's lives. She grew up as an occasional churchgoer but never had a real relationship with Christ until she and her husband discovered Christ Community. "Each week, I feel more and more comfortable talking about God and the language surrounding [him]," she says. "I am so happy that we found such a great church."
What does the future hold for Christ Community?
"Only God knows," Miller says. "We don't look to the future with some grand vision. That's not who we are. We want to see where God is leading."
Read more Outreach 100 fastest-growing church profiles »
CHRIST COMMUNITY CHURCH
Overland Park, Kansas
Senior Pastor: Tom Nelson
Website: ChristCommunityKC.org
Twitter: @ChristCommKC
Facebook: /ChristCommunity.Olathe
Founded: 1989
Affiliation: Evangelical Free
Locations: 5
A 2017 OUTREACH 100 CHURCH
Attendance: 2,606
Growth in 2016: +311 (14%)
Fastest-Growing: 72