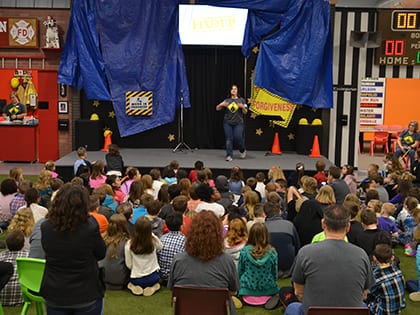 No. 30 Fastest-Growing: Life Bridge Church in Michigan Makes People Feel Like a Part of Something Bigger
When visitors attend Life Bridge Church in Taylor, Michigan, they may be surprised at the music before the service. Whether it's Michael Jackson or Hanson, the goal is the same: making people feel at home.
"Churched people come to me and say, 'We love your church, but why are you playing the Devil's music?'" says Lead Pastor Grant Agler. "It's an opportunity to explain [that] when someone attends for the first time, none of it is familiar. The things I'm preaching about, communion, the music and the building aren't familiar. But there's one thing. When they hear Twisted Sister, they can say, 'That I'm familiar with.'"
It's part of the strategy of "a church for the unchurched." And according to Agler, that mission statement turns the focus on unbelievers and people in the community rather than on themselves.
"You don't like the music, well that really doesn't matter. What matters is, do the people out there like it?" Agler says. "If you don't like the way we built the auditorium or the color of paint we used … it's a leverage point for everything. We're not here to satisfy you, meet your opinions or really help you at all."
Taylor is situated south of Detroit, in an area of 18 communities with 375,000 people. Life Bridge began there in 2012 when six couples had a meeting about planting a church.
"After that first meeting we went ahead and just launched," Agler says. "We didn't plan on it for two years, we didn't scope it out for a long time. We started without tons of marketing, without tons of preparation and without a big budget. We just used whatever money we had."
The church started in a high school and bounced around to other locations, but the attendance of 241 on the second week was their lowest—and they only grew from there. Today, they meet in a repurposed bowling alley with six active lanes. One can sometimes hear the crash of pins during services, and the community bowls free on select days.
Agler attributes their growth to several factors but highlights the desperate need for churches in the area and the savvy of their online marketer. "He's just a Facebook guru," Agler says.
The church uses its YouTube channel and Facebook videos to great effect. In addition to promotional and missional videos, they host "Bible Answers" and deal with questions ranging from "Will my dog go to heaven?" to "What does the Bible say about cussing?" The church budgets $600 each month for local Facebook boosting and makes sure their videos don't feel like commercials.
"If people get the sense that your Facebook page is just a way to hook them to go to your church, they're kind of out," Agler says. "But if you're offering content that helps them where they're at, that's what gets them to hit that 'Like' button." Some of their videos, like the pseudo-silly "How to Know You Are in a Cult," have been viewed thousands of times.
And the church isn't afraid of thinking outside the box. On Super Bowl Sunday, a day that is normally poorly attended, the church hosted the now-annual "Puppy Bowl." They built a small stadium in the foyer and filled it with borrowed puppies from a pet store. "People went nuts," Agler says. "You couldn't get to the stadium because of the crowd."
When they have good ideas, they implement them on Sunday mornings. Their Easter egg hunt isn't on Saturday, it's on Sunday. Instead of a picnic on a Friday night, they host "Church in the Park" and have their service outdoors.
Life Bridge relies on an "anemic staff for church growth" and instead invests heavily in volunteers and systems to move people from attendance to participation.
Years ago, Keith Lehman and his wife were praying for a church where they could "spread their wings" and attended Life Bridge. He moved from parking lot attendant to connections pastor over a four-year period, and today, in addition to his full-time job, he spends 20 to 30 hours a week helping people connect with others and find areas to serve. He spends a lot of time in one-on-one conversations with new attendees, helping them find a place within the Life Bridge community.
"Whether it's being part of a small group, a greeter or making coffee," Lehman says, "what we're doing is helping people feel like they are a part of something, like they belong."
Read more Outreach 100 fastest-growing church profiles »
LIFE BRIDGE CHURCH
Taylor, Michigan
Senior Pastor: Grant Agler
Website: TheLifeBridgeChurch.com
Twitter: @GrantAgler
Facebook: /TheLifeBridgeChurch
Founded: 2012
Affiliation: Nondenominational
Locations: 1
A 2017 OUTREACH 100 CHURCH
Attendance: 1,121
Growth in 2016: +354 (46%)
Fastest-Growing: 30