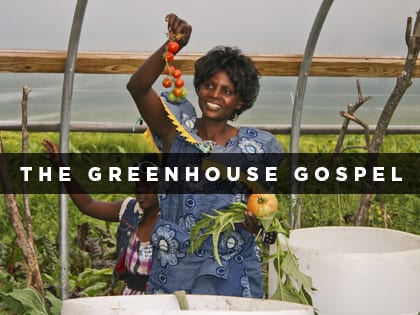 Greenhouse ministry at Third Missionary Baptist Church in Davenport provides fresh produce for the community.
Organic vegetables aside, the pastor at Third Missionary Baptist Church in Davenport, Iowa, hopes a soon-to-open greenhouse will grow community.
"The sky is the limit as far as how much it can do," says Rev. Rogers Kirk, whose church sees approximately 185 attendees each weekend.
The "high tunnel" greenhouse comes courtesy of a $7,000 U.S. Department of Agriculture (USDA) grant and partnership. The partnership brings greenhouses to needy areas around the country, including an inner-city spot between a high school and the Davenport church.
School board members are excited about students' involvement, Kirk says. Class time in the greenhouse means hands-on learning about wellness and home economics.
Kirk also foresees opportunities for entrepreneurship. Neighbors not only decide which vegetables to grow, but they'll reap the harvest. Students from the school or neighborhood can sell their veggies through the local farmers' market twice a week, learning that "when you work hard, it does pay," says Kirk.
The greenhouse is mostly made of galvanized pipe covered with heavy plastic. Plants grow straight from the ground without raised beds.
Vegetables can grow year-round, even in the Iowa winter, according to Kirk.
One farmer has volunteered to help the process, and local representatives from the USDA will train neighbors and parishioners in gardening skills.
If neighbors attend church because of the outreach, that's fine. But Kirk doesn't want it to be a gimmick to get them in the pews. For him, the best reward comes from meeting needs: They'll give fresh produce to neighbors who can't buy it.
He believes they're feeding the "least of these"—and therefore the God who spoke those words in Matthew 25:40.
"That's what motivates me every day," Kirk says.