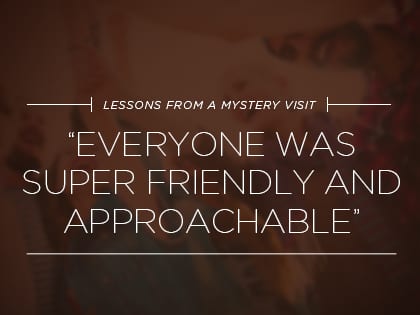 An unchurched person reports on an unannounced visit to a local church. Could it be yours?
—A 30-something unchurched female visits a medium-sized church in southwest Florida on May 1, 2016, at 10:00 a.m.
OVERALL SCORE
5 stars out of 5
What was it like when you entered the building?
Two designated greeters at separate entrances welcomed people. They were sincerely nice and friendly. Everyone was super friendly and approachable. The waiting area had couches for people to hang out, and they served food.
*****
Was it obvious where the children's ministry was located and that it was clean, secure and well-staffed?
The children's/youth ministry was good. They showed me the curriculum, which they kept in a detailed book. The website had information that helped me decide that I would feel comfortable leaving a child in their care. The children/youth would enjoy themselves here.
*****
Did you observe anything that would lead you to believe that the church values diversity?
The church's diversity and outreach efforts are good because they had a diverse staff and attendees present. I saw men and women from all ages and all races. They used a diverse range of workers and the videos contained multiple ethnicities.
*****
Describe the service.
They had traditional music and some vocalists at the front. Everyone seemed sincere and engaged. They paid attention. The music was suited to young people and families. They gave a formal greeting from the pulpit and welcomed visitors, but no handshakes. The greeting was sincere and just right. The sermon was appealing. However, the service was almost two hours. It was easy to grasp and relevant. The interesting and fulfilling message was about reprimanding people to gain a "brother in Christ" and how to treat unbelievers. He also shared experiences of a couple who had been foster parents. A second speaker then shared how to become a foster parent. The speakers were well prepared and comfortable. They were both easy to listen to and the second speaker used a PowerPoint presentation and a video. The foster parent was one of the church members who participated in the foster parent program.
*****
Overall, how friendly would you say the church was to you during your visit?
The church was friendly and I felt welcome.
*****
Would you return to the church?
I am willing to return to this church. It is well-organized and friendly. Families and children are more likely to be attracted to this church.
*****
Additional Observations
Was the nearby community aware of the church?
I stopped at a gas station. The attendant knew about the church and informed me about the location of the service.
How was the seating?
They had a plentiful supply of comfortable plastic seats. Everyone sat close together with the front rows filling up first.
How recognizable was the church signage?
An outside sign showed the location of the church, but they listed no worship times. The sign was easy to read and directed me to the parking area. Signs also pointed to the children's area, restrooms and service area.
How was the post service atmosphere?
Nobody interacted with me as I was leaving, but they did smile. The mood was friendly and welcoming. It made me along with other guests feel like a part of the group.
How would you rate the information resources?
They had many resources, including a bulletin, brochures, website, an information table with brochures, welcome/visitor center, calendar of events, and front desk reception. The website had everything I needed and was informative with schedules, childcare options, recent teachings and staff profiles. More pictures would have been nice. They provided an opportunity for me to leave my contact information, which I did.
What is your overall impression?
My overall perception of this church is good and I am likely to be attracted to this church. I have a few suggestions including a more detailed daily sermon brochure that shares the topic of the day's service. Larger and more detailed outside signs that differentiate the separate church buildings and one that specifically points to where the worship service is held. Also, thirteen days after my visit, I still have not received a follow up from the church.
An unchurched person reports on an unannounced visit to a local church. Adapted from a report provided by Faith Perceptions, which has evaluated more than 3,500 worship services across the United States. Visit FaithPerceptions.com.