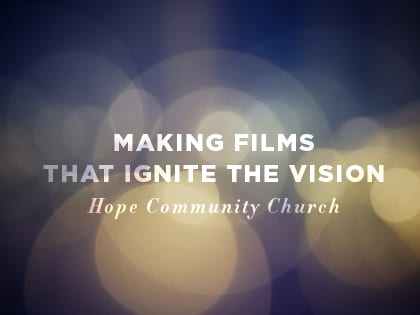 Creative Media Director Joe Woolworth explains how producing films informs and excites people about the vision.
How are you using films to connect with people?
Regularly on the weekend, we share a vision of how we can impact the kingdom. We attract people who are attracted to that vision. We share a lot of stories in our weekend services—coming to hope, partnering with us, being on mission with us and making a difference in people's lives.
We recognize that as soon as we put up projectors and start shooting films, we're no longer competing with what other churches are doing. We're competing in the arena of ideas. So, we try to tell stories in a way that people are used to consuming stories. We spend a lot of time on visual storytelling—about two stories a weekend. 400 films a year. We try to find a thread in the story, and we try not to turn it into a commercial.
How do the stories fit into your services?
We have a weekend video called The Loop, which for a lot of churches would be the announcements video. We typically don't put announcements in it. We found that its real function inside that weekend service is building pride and ownership for people—people getting excited about what Hope's doing here locally—they're part of a church that's doing it, and they're also contributing to this vision. Then we always do a call to action at the end. So, if we share a story about our Starting Point class or our Discovery class, it's part of a person's story. The host at the end will say, "Hey, back to you, you might want to jump into this." But we found that making a commercial for class is probably the least effective way to go about it. Then we have a film later in the service, too.
How do you gather stories?
We have a collection mechanism on our website, and we rely on our area pastors and our ministry leads who are in the field. We check in with them and try to find good stories. Then we contact people. We end up producing a lot more that way.
Ideally, it takes us about five weeks to make a video. We found that the right length for the story in The Loop is about one and a half minutes. And the other story is about two and a half minutes. I have a film director who's been doing this for a long time, and we have five full-time film directors on our team. We take the idea of the role of art very seriously.
Where do the stories go after you use them in a service?
We have a "Stories of Hope" page. We have a Vimeo channel where a lot of the films end up. We publish them on Facebook, where we have about 8,000 to 9,000 followers. We just did a "History of Hope" video and had 27,000 views within a week.
Can you share a story that's highlighted in one of your films?
We did a film not long ago about a guy named Shane. He was disenchanted by church. He didn't want much to do with it. He was having marital problems. His wife tricked him into going to our Starting Point class, which is kind of our discussion class about questions of faith. It's very open and is sort of our precursor to being in a small group. Through that Shane got to know the people in that group, felt more and more connected and made the decision to follow Christ one weekend at the end of service. His Starting Point group turned into a small group. And now he and his wife are very connected and excited to be a part of Hope.
HOPE COMMUNITY CHURCH
Raleigh, North Carolina
Website: GetHope.net
Launched: 1994
Weekend Attendance: 8,085
A 2015 OUTREACH 100 CHURCH
Fastest-Growing: 45
Largest: 50