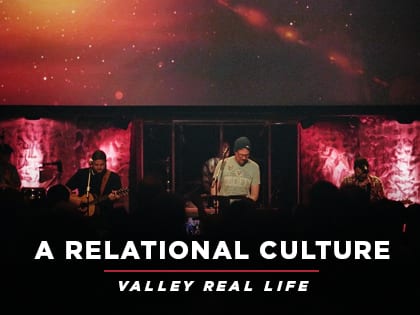 No. 51 Fastest-Growing: Valley Real Life in Washington Fosters Christ-Centered Relationships
Alison Eldred and her husband both grew up in Protestant churches but felt they lacked a personal relationship with Jesus Christ. They set off on a spiritual journey 11 years ago to find a church where they both could deepen their faith and their relationships with other believers. They eventually found that experience at Valley Real Life church in Greenacres, Washington.
Someone invited the couple to join a small group, where they discussed sermons and ideas about the Christian faith with one another. They offered encouragement during challenging times and met the needs of those experiencing health problems.
"People are really devoted to being transparent and walking alongside each other," Eldred says of the members of Valley Real Life. "The church is a safe place to be real and to have people really disciple you and meet you on your journey."
Lead Pastor Dan Shields says Valley Real Life stands out precisely because of the experience Eldred describes.
"Creating a relational culture with Christ at the center is something unique for us," Shields says.
The pastor also attributes the church's growth to the willingness of the leadership team to assess its strengths and weaknesses. For example, many staff members used to serve in multiple capacities at the church. This prevented the team from functioning optimally, so their responsibilities were narrowed, Shields says.
Although Valley Real Life's top demographic consists of families with children, people from all age groups and life stages attend. In fact, many of the individuals who've recently been baptized are teens.
"We've had almost 200 people who have been baptized in the past year," Shields says. "It's really cool to see this next generation coming up through the discipleship of their parents."
In some cases, teens become believers first and then lead their families to the Lord. Ryan Lingbloom, Valley Real Life's next generation pastor, recalls the story of a 16-year-old girl who gave her life to Christ two years ago at the church's summer conference.
"She expected to come home to parents who were excited for her, even though they don't attend church," he says. "What she found instead was discouragement from her parents."
But the teen continued to grow in her faith, and her devotion has influenced her family over time.
"Through her serving and loving her family, she had the privilege [recently] of baptizing her younger brother," Lingbloom says. "Her mom, dad and sister are now regular attenders at VRL and are on the journey of giving their lives to Jesus—all because a 16-year-old girl refused to give up on God in her family."
Valley Real Life has a discipleship process known as the A-B-C-D method. First, members accept Christ through baptism. Then, they find belonging in the community and contribute their gifts, time and resources to the church. Lastly, they disciple or lead someone else through the same process.
Lingbloom applauds the church's middle and high school small-group leaders for walking alongside students in their journeys of faith.
But the boom in baptisms and church attendance also has a supernatural element, Shields says.
"I would just say this is of God and not of man," he says. "God is deciding to do something pretty special and unique right now."
Read more Outreach 100 fastest-growing church profiles »
VALLEY REAL LIFE
Greenacres, Washington
Lead Pastor: Dan Shields
Website: ValleyRealLife.org
Twitter: @ValleyRealLife
Facebook: /ValleyRealLife
Founded: 2003
Affiliation: Independent Christian Churches
Locations: 1
A 2016 OUTREACH 100 CHURCH
Attendance: 2,152
Growth in 2015: +416 (24%)
Fastest-Growing: 51