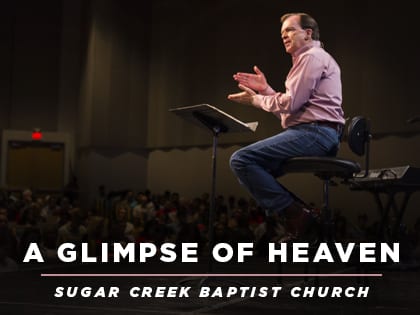 No. 68 Fastest-Growing: Sugar Creek Baptist Church in Texas Values Diversity and Families
Kelly Baca gave her life to Christ years before her first visit to Sugar Creek Baptist Church in Sugar Land, Texas. But marriage to an unbeliever who discouraged her from attending prevented her from joining the church. After her divorce, Baca made Sunday worship a priority.
"That was the first thing I did," she says. "I started going back to church." The divorced single mother had plenty of churches to choose from but decided on Sugar Creek because of its family focus.
"For people who have families, that's a huge attraction," Baca says.
Lead Pastor Mark Hartman says the church's focus on global outreach took off in 1990, after a group from Sugar Creek went on a mission trip to Africa and yearned to continue meeting the needs of the people there.
"This became Living Water International, which is one of the largest ministries of its type in the world," he says. "Their clean water is now serving over 5 million people."
The church has a domestic outreach program that benefits people in need of clothing, food, counseling and health care. It has also hosted Hurricane Katrina survivors. Hartman says that the ideas for these outreach efforts came from members of the congregation.
The congregants come from a wide range of ethnic backgrounds.
"Fort Bend County is very diverse, and our church reflects that," Baca says. "Not all churches do. If you go to the church, you'll see every nationality. That's one of the things I love."
But Sugar Creek didn't always have a diverse congregation. When Hartman became the pastor 14 years ago, the congregation was 92 percent white. This led the staff to pray for more diversity. Today, it is 50 percent white, with blacks, Latinos and Asian-Americans making up the other half, according to Hartman.
"When I look out at my congregation on Sunday mornings, I have a glimpse of what heaven will be like," Hartman says. "People from every nation and tribe loving each other and joining together to worship the Lord, hear and apply God's Word."
Hartman says the church has grown over the years because it never strays from its vision, which is "to love and lead all people to life change in Christ." Training members in discipleship, youth outreach and commitment to church guests have played roles, as well. Sugar Creek reserves parking for first-time visitors and sends handwritten notes and $5 Starbucks gift cards to them, too.
Hiring a guest ministries pastor has helped the church build up its outreach to newcomers. Bruce Ammons serves in this role and says Sugar Creek's goal is biblical hospitality. To keep track of guests, the church asks everyone—not just visitors—to fill out communication cards weekly. Sugar Creek also invites visitors to fill out surveys. He estimates that 98 percent of reviews are positive, but the staff always takes any negative feedback into consideration.
"Guest retention is more important than guest volume," Ammons says. Churches typically retain just 10 percent of first-time visitors and go on to lose 10 percent of members annually because people move away, die or switch churches, he says.
At Sugar Creek, 51 percent of newcomers return to the church and become members, the staff estimates. The devotion the congregants show each other plays a key role, Hartman says.
"There is an environment here of peace and love within our church family," he says. "No church is perfect and we don't pretend to be, either. There is, however, a remarkable sense of unity and commitment to one another that can only be explained by God's favor."
Read more Outreach 100 fastest-growing church profiles »
SUGAR CREEK BAPTIST CHURCH
Sugar Land, Texas
Lead Pastor: Mark Hartman
Website: SugarCreek.net
Twitter: @SugarCreek
Facebook: /SugarCreekOnline
Founded: 1973
Affiliation: Southern Baptist
Locations: 2
A 2016 OUTREACH 100 CHURCH
Attendance: 4,229
Growth in 2015: +568 (16%)
Fastest-Growing: 68