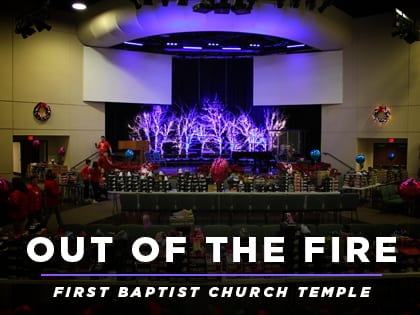 No. 69 Fastest-Growing: First Baptist Church Temple in Texas Seizes Opportunity to Grow After Arson
In 2010, an arsonist burned down the sanctuary of First Baptist Church Temple in downtown Temple, Texas—a tragedy for the 140-year-old church. But rather than feel discouraged, the church saw an opportunity—and a call from God. The church decided to expedite plans to build a new facility on 138 acres they'd purchased in a fast-growing area of town.
"The church was moving forward," says Senior Pastor Ronny Marriott, "because they knew that's what God had called them to do, and they were committed to that."
First Temple had purchased the land in west Temple earlier that year. The original plan was to build a satellite campus there to bolster the stagnating membership at the downtown campus.
But the fire—and the resulting disruption it caused to programs and meeting spaces—was the confirmation the church needed to leave the downtown location altogether and go where the people were going.
They'd done their research, talked to city government, looked at economic development and demographic studies. Marriott sat down with the mayor and asked how the church could best serve west Temple.
New neighborhoods, schools and shopping centers were attracting young families there. As the only church in its area, Marriott and his team saw the potential to reach them.
"The church was committed to understanding the demographics of west Temple and then designing a church that would be attractive to them, as well as functional for what we wanted to do," says Marriott, pointing to the building's modern design and indoor playground and café.
Everything about First Temple's new campus was deliberate, designed to attract nearby residents and designed to facilitate outreach and evangelism.
"We really want to be a church for the community," Marriott says. "And to be honest, we're really trying to break down some of those stereotypes of a First Baptist Church. We want it to be very comfortable and casual here so that all people feel welcome. We've put a lot of emphasis on first impressions."
The community witnessed the church's entire journey, says Cheryl Jones, a longtime member and lay leader in the church who directs the welcome center and served on the committee to help with the transition during the move.
"The community grieved with us when our church burned, and then they cheered for us as we built the new one," Jones says. "They wanted us to succeed. I've never seen that type of community oneness before."
Perhaps that's a testament to the church's intentionality to reach into the community, from the very beginning. Even before the new building opened, the church began holding Sunday services in a nearby elementary school to establish a relationship with the neighbors. They also built a prayer trail on the property for the community.
And since its first service at the new location—four years to the day of the fire—the church has been just as intentional about reaching out as they've been about inviting people in.
"We want to champion what people are doing in our community," Marriott says. "It doesn't all have to happen here on our campus. We want to encourage our people to see the sports field, their business, the playground—wherever—as their mission field."
Their go-and-do mentality has remained just as much a priority as their come-and-see one. Church members and leaders still do door-to-door evangelism. They hold prayer walks and community events. They offer a "Mother's Day Out" program twice a week since the area doesn't yet have many preschools or daycares. The church works with local ministries and missions groups.
Now, two years after opening its new home, the church is thriving, its attendance three times what it was during its days in the downtown campus. Marriott calls it the perfect storm: a great location, a visible building that still has "that new church smell," thoughtful planning, and lots of families who are new to town, new to Texas and new to the faith, just waiting for an invitation to church.
And in Jones' opinion, Marriott, who became pastor of the church during the transition, has played a part, too.
"He has such a heart for every kind of person," Jones says. "His messages are on point and current. Whatever is going on in the world, he can address it."
And, she says, he can do it in a way that speaks to all different types of people— from those who weren't raised in church, to those who come from different denominations, to mature Christians.
They've all come to call First Baptist Temple their home.
Read more Outreach 100 fastest-growing church profiles »
FIRST BAPTIST CHURCH TEMPLE
Temple, Texas
Senior Pastor: Ronny Marriott
Website: FirstTemple.org
Twitter: @RonnyMarriott, @FirstTemple
Facebook: /FirstTemple
Founded: 1874
Affiliation: Baptist
Locations: 1
A 2016 OUTREACH 100 CHURCH
Attendance: 1,060
Growth in 2015: +282 (36%)
Fastest-Growing: 69