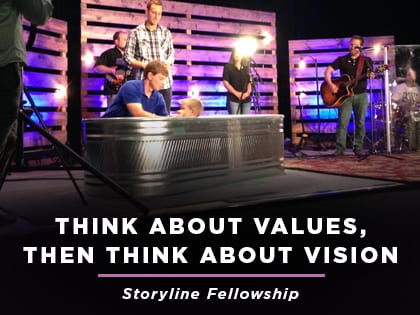 "Drill down on your values, and let your vision flow from what makes you feel most alive."
For our From the Front Lines series, we asked several pastors to share the stories of their church plants. These pastors will be checking in online with regular updates on their churches and experiences, allowing readers a front-row seat to the ins and outs of church planting.
Storyline Fellowship: Update No. 2
Before I became a planter, I pastored an established church that held to many time-honored traditions (and I use the "t" word in a most positive sense!). With 65 years of history under her belt, the church had accumulated a list of "automatics." These calendar items were locked in year-to-year and people loved them: December's Christmas Candle Light service, April's Wild Game Dinner, August 1's Grade Bible Presentation Sunday, etc.
You can imagine how overwhelming and liberating it was to start over! Storyline Fellowship had no history, no culture, no traditions. What we did have, thankfully, were guardrails to guide us: our core values. Page 1 of our prospectus posted four things we would emphasize, measure and cultivate. These were the hills we felt ready to die on and every program would erupt from these four distinctives.
Storyline's Core Values
Here is a quick summary of the four values we chose as the pillars of our vision:
1. Intentional Bible Training. We would not assume that people are living in the Scriptures because they show up to church. We would build programs to train people in reading the Word well. We would stick to expository preaching on the weekends in order to give them a glimpse of sound interpretation and application.
2. Authentic Community. We believed that relationships wouldn't happen in rows of chairs. They would happen in circles. We said from the start that every Storyline attender would be challenged weekly to get into a group where the messages would be dissected, where encouragement would be offered and where prayer would be commonplace.
3. Teamwork. We wanted every person in our church taking steps toward discovering, developing and deploying his or her spiritual gifts. Serving on a ministry team is both empowering and humbling—a sanctifying assignment that calls one to play well with others and to sacrifice self for the sake of the cause.
4. Relational Evangelism. In a recreational culture, we saw limitless opportunities to sincerely enjoy time with unchurched people. Since the people of Denver, Colorado, live outdoors, we saw a strategic advantage when bonding with others. We would take an agricultural approach in sharing the gospel, striving to invite them into our lives before we invite them to any location. Bill Hybels' book Just Walk Across the Room captured our hearts.
The Scorecard
What these four values provided for our team was invaluable. We now had a scorecard in hand. Counting "nickels and noses" felt boring compared to the honest evaluation of these passion areas. Quarterly, we now set aside one or two full days for robust discussion around these subjects. We debate whether these values are aspirational or actual. Are these four footballs moving down the field? Which one(s) seem to be stuck? On a weekly or monthly basis, we can't find the time for lengthy philosophical exchange, but four times a year is a must.
Whether you lead a plant or an established church, I would strongly encourage you to drill down on your values, and let your vision flow from what makes you feel most alive.
To check out a short video on our church's core values, click here.
Read more from Ben Mandrell and Storyline Fellowship »