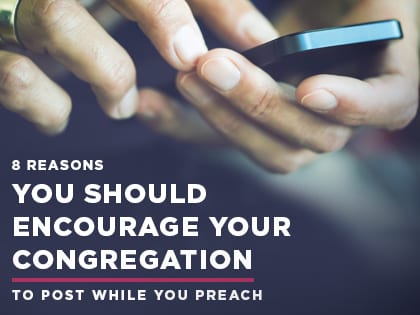 "Preach the Word, and if necessary, use words. And tweets. And pictures."
I'm a proponent of social media. Like it or not, it's here and we have an opportunity to utilize it as an amazing tool for our preaching. The words "Hear, O Israel" in Deuteronomy 6:4 tell us that God wanted his instructions to have maximum reach. He didn't want anyone to miss out on what he was saying. So why shouldn't we have a bigger vision for our sermons by being strategic and encouraging social media use during the message?
Here are a few thoughts on why you should be okay with people using their phones and tablets during your message:
1. People remember something more when they write or type it down.
heard people remember 85 percent more of they hear by writing it down. Therefore, while their thumbs are frantically flying across their screen, they're focusing on what was said.
2. Social media networks are VERY frequented locations.
God told Israel, when it came to the greatest commandment, to write it down in the place where their family and their guests passed by every day. Think about how many "passersby" your congregation can reach by way of their social media feeds.
3. Our memory isn't as good as we think it is.
We only have so much room to work with and everything battles for space in our minds. I'm reminded of the times people have asked me to say a "happy birthday" or "happy anniversary" from the pulpit. With a mind that is so tuned into the sermon, I forget those requests all too often.
Often, I tweet or post and forget about. But then, I get a notification that there's been a retweet, like, share or comment, and I suddenly remember what was posted.
4. It reminds us preachers to keep thing simpler.
You hear it every Thanksgiving. "I'm not sure what I ate, but it was good." If we give people too much info, they might feel fed, but they won't know what they ate because there was so much.
I will frequently type the main points of my message into Twitter to see if they fit into 140 characters or less. Long sermons might seem really spiritual, but they're not always more effective. Having short, memorable (tweet-able) statements are more likely to stick in a person's memory.
For some help, The Rocket Company provides a resource called Preaching Rocket that can help you develop "sticky statements."
5. It provides a place to revisit.
As a teenager, I started taking sermon notes. Part of it was to stay awake during the service (I'm not afraid to admit it). But it also allowed me to reread and retain. More often than not, the bulletin cover was accidentally lost, thrown away or left in my pocket and put through the wash. Posting and tweeting during the message provides an easily accessible place to revisit over and over.
6. It resonates with younger audiences.
Part of me says, I'd rather have young people in church tweeting and listening than sitting at home and tweeting and not being at church. The other side of me says, give them something to tweet about. I give my kids permission to tweet during the service. Like it or not, social media is what our younger generations use to communicate with each other.
7. It provides an opportunity to make the sermon fun and interactive.
Some people make church anything but fun. We've challenged people to take selfies during the congregational greeting and pictures with the people sitting around them. It's fun. But behind the fun is getting people to engage with others around them. I'll Instagram from the front row shots of missionaries speaking or videos of the worship team. People will post weird things I say. It keeps the service light and fun and, again, more engaging for people.
8. It keeps the conversation going.
I see it every Sunday. People from our congregation start interacting with each other on the fun and the serious stuff from the message. Even better, people who do not attend church start engaging in conversation.
Think about it: A 40-minute or so message can go on for much longer (and because of social media and a pastor's careful planning to make things tweet-able. You can use hashtags to help "meld" together the posts, and you've got yourself a social-media conversation that can go on all week.
Preach the Word, and if necessary, use words. And tweets. And pictures.
Dave Barringer (@PDBarringer) is the lead pastor at Kalamazoo First Assembly of God in Portage, Michigan. He blogs about pastoring and marriage at PDave.me.