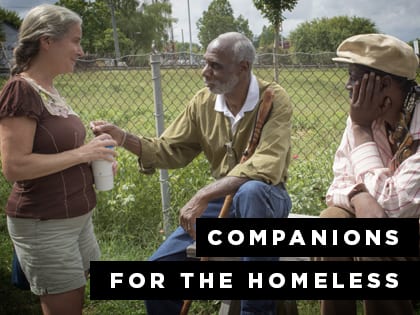 Haywood Street UMC in North Carolina holds weekly meal for the homeless, abused and addicted in their community.
Dell Dillard, a retired bank executive who ushers every Sunday at Haywood Street United Methodist Church in Asheville, North Carolina, gets choked up whenever he talks about the friends he's made with the community's homeless. "Jesus and his rowdy friends got ahold of me," says Dillard with a chuckle.
It's all thanks to an outreach ministry that has been brewing in the heart of Pastor Brian Combs ever since he experienced a paradigm shift in seminary. "Instead of thinking of Christ as the miracle maker, I started focusing on Jesus' humanity and the way he associated with prostitutes and rubbed skin with lepers," says Combs "I wanted to be among the lost and lonely because that's where Jesus promises to be."
Seven years ago, Haywood Street, with an average Sunday morning attendance of 125, began offering a free midweek meal. All food is donated by local high-end eateries. Liz Button, owner of Cúrate bar de tapas, one of Asheville's most popular restaurants, coordinates the meals. Typically, 350 to 550 homeless people partake.
What make these meals so popular (besides the delicious fare) are the relationships that develop as Combs and his team of 125 companions (they use the word "companion" rather than "volunteer" to highlight the point of community) dine beside the homeless, abused and addicted.
Each meal is followed by a worship service and a chance to get clothing, a haircut and an acupuncture treatment. Despite the array of services, Combs insists that the ministry is not about serving the less fortunate but rather about fostering transformative, healing connections among people.
This is why two years ago the church converted the old Sunday school wing into a respite home for those needing to convalesce following a health crisis. Combs witnesses daily the therapeutic nature of community.
"As patients gather here, the vacancy in their eyes dissipates. Their flesh turns from gray to rosy," says Combs. "Their inner spirit re-emerges because salvation requires community."