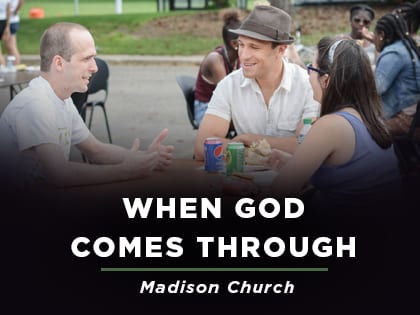 "God showed us again that if we're authentically seeking him in the things we do, then he'll give us what we need."
For our From the Front Lines series, we asked several pastors to share the stories of their church plants. These pastors will be checking in online with regular updates on their churches and experiences, allowing readers a front-row seat to the ins and outs of church planting.
Madison Church: Update No. 1
When we moved to Madison, Wisconsin, in 2014, the launch strategy for Madison Church was pretty simple: (1) Have a worship gathering on the weekend; (2) host small groups during the week; and (3) give back to whatever neighborhood we became a part of through acts of service. Since starting up, we've done gatherings and groups, but had yet to give back in what I would consider to be a meaningful way—until recently. The plan we had was threefold, and we only accomplished two-thirds of it a year-and-a-half later.
But this year I felt like organizing a community event was the only thing God wanted our church to work toward. I would be reading my Bible and journaling, rationalizing that we didn't have enough money to pull something like this off well, and I'd feel peace about it anyway. I would pray and reflect, worried that we wouldn't have enough volunteers to do it successfully, and I'd have a sound mind. It got to the point where it felt like not moving in that direction was in conflict with God's will for us.
So I put a date on the calendar and my team began planning a neighborhood block party. I didn't know how we'd pull it all off, but I was trying to be obedient to God's leading. We had the plans in place, but the week of the event was the week of payroll. Now, we only have a few people on staff part-time, but our bookkeeper informed me that we only had enough money to cover paychecks or purchase supplies for the barbecue. Still, at that moment, I felt confident God would show up.
That's when the miracles started happening. A friend of mine gave us a generator to use and connected us with someone who donated a bounce house for the afternoon. The World's Largest Brat Fest (an annual celebration of food in Madison) happened the weekend before our event, and they sold the brats and hot dogs they didn't cook by the hundreds for almost nothing. A local grocery store even gave us brand-name soda for nearly 75 percent off when they found out what we were doing. I couldn't believe everything I was experiencing. Oh, everyone on our staff still got their paychecks.
As for the event itself, I arrived a little late because I was getting the bounce house. When I got there, it was the most surreal moment I've had as a church planter. There were dozens of people in the T-shirts we bought for our volunteers to wear that afternoon. One group was busy setting up tables and chairs, while another carefully put out the food they had been grilling. We actually had more volunteers at this event serving than the average number of people we have at our weekend gatherings.
This was something I'd dreamed about before coming to Madison but had yet to experience. I got lost in that moment until one of the volunteers coordinating the event knocked on the truck window and told us where to leave the bounce house. Laughter and music filled the air the rest of the night. Those in our faith community loved on our neighbors and got to know their names and hear their stories. It ended up being an evening we'll talk about for awhile, as we plan on doing it again at the end of this summer, too. God showed us again that if we're authentically seeking him in the things we do, then he'll give us what we need.
Read more from Stephen Feith and Madison Church »
Read more church plant stories From the Front Lines »