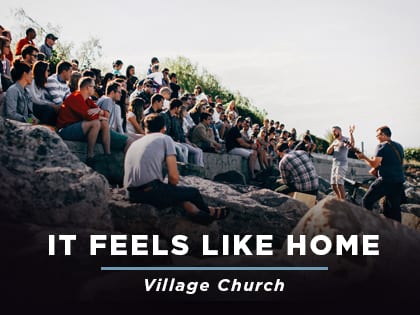 "I love my city. It is a really cool place to live, and Village Church is a 'cool' church, but neither one of those things is the point."
For our From the Front Lines series, we asked several pastors to share the stories of their church plants. But this is just the beginning of their stories. These pastors will be checking in online with regular updates on their churches and experiences, allowing readers a front-row seat to the ins and outs of church planting. Read more from Jeremy Hazelton and Village Church »
Ever since I reluctantly backed into the ministry I had wanted to plant a church. At the beginning I didn't really know what that meant; I just knew that most of the churches that I had attended or served at were not the kind of places that I would want to invite someone to attend. These churches were not heretical in their teaching and most of them were friendly enough, but they weren't "cool." I'm ashamed to admit this now, but the allure of doing something new and hip was my primary attraction to starting a new church.
Through a series of providential relationships and church experiences, the idol of planting a "cool" church for the sake of being cool began to lose significance in my heart. This article isn't completely about that work of God in my life, but it's a major factor in what led to the planting of Village Church in Buffalo, New York.
I was serving on staff at a large church in the suburbs of Baltimore, Maryland, when the decision to plant a church went from the someday I'll do this stage to it's time. I knew that God was calling me to plant in a big city, and I was pretty sure he was calling us to Baltimore. I discussed this crazy idea with our church leaders and I made a few calls to friends who had planted. I starting reading and re-reading everything I could find about church planting. Ultimately, I reached out to Orchard Group to find out how this whole thing was supposed to work, and to see if they would consider me as a church planter.
After undergoing the assessment process and being told that I could plant a church, I learned that planting in Baltimore was not going to be an option, at least not for a while. (There were a variety of factors that took Baltimore off of the table at the time, and Orchard Group has since planted an awesome church in the neighborhood that I originally considered.) Unsure of what to do next, I was encouraged to visit the city of Buffalo and think about planting a church there.
I was not attracted to the idea of Buffalo, not even a little bit. I had never been there, and only knew that in the '90s the local football team lost a few consecutive Super Bowls. Mostly because I wanted keep working with Orchard Group, I agreed to take the trip, thinking that if I humor them and go visit there, then I can actually plant a church somewhere cool. At this point, the idol of planting a cool church in a cool city was very real, and I wasn't fully aware of what kind of influence it was having on my decisions.
I went to Buffalo with my wife for the first time in October. It was unseasonably cold and rainy. I was not impressed. The city had largely lived down to my expectations, and yet while we were there, it became clear that we were supposed to plant a church there. The idol of being the cool church planter was beginning to be replaced by a new idol: the martyr church planter, the guy who goes to the toughest place and takes one for the team.
If church planting has taught me anything, it is this: Any motivation to plant a church that isn't about advancing the gospel can become an idol that must be dealt with. I didn't know how much God would use planting a church to shape, break and challenge me, and while this process has not always been fun, I'm filled with gratitude for it.
We planted Village Church in 2011 in partnership with Orchard Group and a collection of churches from around the country who all contributed financially, and some of whom volunteered their time to serve on our leadership team as we got rolling. We followed a pretty traditional model of raising funds, building a small staff team, and working toward a launch of public services. We moved to Buffalo in January (an amazing time of year to move to the snow capital of the U.S.) and hosted our first core team meeting on Valentines Day. There were 10 people in attendance, and we began to ask the question about what a church in our city could look like, and what we should be about. Our team grew over the next few months, and in October of that year (two years after our first visit to Buffalo) we held the first public service of Village Church. And this year we will celebrate our fifth anniversary as a church!
Starting a church from scratch is a daunting task, especially in a city that you don't know very well. Thankfully, Buffalo lived up to its name as The City of Good Neighbors, and we were quickly welcomed into the ebb and flow of life there. I met my next-door neighbor the day after we moved in because my car was stuck in the snow, and he came out to help me get unstuck. This small act of kindness was repeated in a thousand different ways over the next few months, and Buffalo started to feel like home.
The reality is that I love my city. It actually is a really cool place to live, and Village Church is a "cool" church, but neither one of those things is the point. They are simply gifts of God to me, evidences of his grace to a dude that is still learning lessons the hard way. But as my love for the city began to grow, telling our story became easier to do, and raising the necessary funds to pull it off started to feel less like selling cars and more like giving people an opportunity to join us in what God was doing.
Like many young churches, we were faced with difficulties. Finances are always an issue, as is finding the right venue for gatherings and identifying the types of service projects we want to be involved in. No surprises here—fundraising is hard. It takes longer than you expect, and you always need to do it. It's heartbreaking when you have to make decisions regarding ministries and staff that are tied to your financial realities. At Village Church, we were not immune from making these tough calls, and they shaped our church in many ways. We were forced to grieve as a church, we were forced to redouble our efforts to make ends meet and make ministries happen.
We also have experienced some amazing wins as a church, even in those early days. I remember using borrowed baptisteries so that people could experience that joy. I remember the first time we did a child dedication and didn't have enough seats to hold the friends and family members that came. I remember the first time someone told me that their small group cared for them when they were in need. I have laughed and cried at Village, often on the same day. I was blown away the first time someone told me that Village helped them engage with God for the first time. I'm honored to pastor this church. I love the city of Buffalo, and I'm heartbroken for the work that still needs to be done here.
I'm proud of Village Church, not because of my work, but because of the ways in which the people of Village have cared for one another, reached out to others and created space for those who don't yet believe. In the years to come we are preparing to plant more churches in our city through collaborative partnerships, and plant more churches around the world through our partnership with Orchard Group. Long term, we are working toward a second location for Village Church in another neighborhood of our city, and raising up more church planters for Buffalo and beyond.
Read more from Jeremy Hazelton and Village Church »

Check out more church plant stories From the Front Lines »
VILLAGE CHURCH
Buffalo, New York
VillageChurchBflo.com
Lead Pastor: Jeremy Hazelton
Planted: 2011
Weekend Attendance: 140
Affiliation: Nondenominational