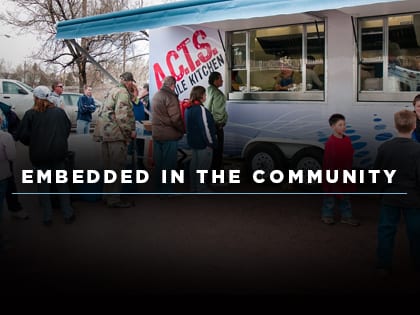 How Woodmen Valley Chapel in Colorado Springs has embedded itself in the community through creative outreach.
In our Innovation and Impact series, we tell the stories of five churches that are effectively reaching their communities by strategically and systematically implementing new ideas—from an urban neighborhood in downtown Denver to a traditional small town in rural Mississippi.
In 2010, the city of Colorado Springs, Colorado, sent a plea to various local nonprofit organizations. Due to budget constraints, the city was on the verge of closing operations at four public community centers and wanted to know if any nonprofits would partner with the city to keep one of the centers open. Ultimately, only one organization responded to the call: a local church called Woodmen Valley Chapel.
After some negotiating, the church and city worked out a deal that would hand over the keys and operations of the 30,000-square-foot Westside Community Center to Woodmen Valley.
"This was the first time in the state of Colorado that a government agency had turned over a public facility to a faith-based organization," says Dick Siever, director of community impact at Woodmen Valley. "There was a lot of risk on both sides."
More than five years later, Woodmen Valley still manages the center, which hosts 10,000 people per month in various programs and activities—a 500 percent increase in volume from the time before the church took over. It's a strategic partnership that has benefitted both the church and the community.
"I think the community has seen our sincerity and a genuine desire to simply serve them," says Lead Pastor Josh Lindstrom, "which has allowed us to build great long-term relationships that may not have happened otherwise. For our church, it's been an amazing opportunity to put faith into action and know the joy that comes from serving others."
While the church oversees general operations at the center, it delegates the responsibility of creating programs to partner organizations that rent out the facility for communitywide events. The rent is inexpensive, allowing partners to provide programs at affordable prices.
"The center is located in a lower-income neighborhood," Siever says. "Organizations can't come in and charge $30 for a session or activity. Most of the stuff they do runs more in the $6 to $8 per person range. In order to allow for that, we've had to keep the rent very reasonable."
Some of the activities and offerings include an afterschool program, run by the Pikes Peak YMCA; a meal program for seniors, provided by the Colorado Springs Housing Authority; a medical outreach clinic for the uninsured, offered by the Penrose/St. Francis Medical Center; and a program that provides free breakfast and lunch for kids every day during the summer, administered by a local school district.
In addition, Woodmen Valley hosts seven programs there, and has even relocated the offices of its community impact ministry, A.C.T.S., to the center. (A.C.T.S. is an acronym for A Call to Serve.) While the center serves as a kind of anchor point for the ministry, it's just one of more than a dozen outreach initiatives that A.C.T.S. strategically implements in the community. Other initiatives include a mobile kitchen and food pantry, a disaster response team, English as a second language classes and a care ministry devoted to single parents and their children.
Siever, who founded A.C.T.S. about 10 years ago with 25 other volunteers, says that developing an effective, sustainable church outreach ministry requires heavy planning and strategizing. "My first suggestion would be, don't just wing it," he says.
According to Siever, outreach ministries fail when church leaders can't decide what they want their ministry to be about. In the early years of A.C.T.S., Siever and his team of volunteers were doing a lot of good in the community—but it wasn't enough.
"We had a mobile kitchen, where we fed people. We had a food pantry, where we gave away food. We did some things for spouses of deployed soldiers," Siever says. "But there wasn't any relationship development. We were doing an act of service, or we were giving away something. There was no relationship. Our leaders began to say, 'There's got to be more than this.'"
That's when Siever and his team went back to the drawing board. They headed to the church's prayer chapel and asked God for direction. They then came up with a new strategy, one that implements relationship building and discipleship into outreach.
"We began trying new things to develop the ability and the confidence of our volunteers to be much more intentional about engaging Christ in the community," Siever says. "When we started A.C.T.S., we said we were going to be the hands, heart and feet of Christ. Now, we say we're going to be the hands, heart, feet and voice of Christ."
Another critical element of sustainable outreach ministry is "heavy duty prayer," Siever says. Any time the leaders of A.C.T.S. need to make a major decision, they devote several consecutive weekly meetings to praying in groups.
"I can't say enough about prayer," Siever says. "If you don't use prayer in this ministry, what you're really saying is that your hands are more powerful than God's prayer."
Siever says some churches make the mistake of going after "heartfelt, perceived needs," rather than tackling the community's actual needs.
"There are a lot of resources in your community," Siever says. "There are a lot of people who you need to visit with to help you find the real needs in your community. If you're doing something because a couple of people in your church have a heartfelt, perceived need, that's not sustainable."
These elements—heavy planning and strategizing, an emphasis on prayer and a commitment to chasing after real needs—have put A.C.T.S. in a position to thrive, grow and purposefully respond to new outreach opportunities that arise. Such was the case with the Westside Community Center.
"When that request came from the city, I didn't have to say anything," Siever says. "I didn't have to say, 'Let's do it.' I showed it to my team, and they just started praying. And they said, 'God, thank you. This is exactly what we need.'"
Check out more stories of Innovation and Impact »
WOODMEN VALLEY CHAPEL
Colorado Springs, Colorado
WoodmenValley.org
Lead Pastor: Josh Lindstrom
Launched: 1979
Weekend Attendance: 6,000
Affiliation: Nondenominational