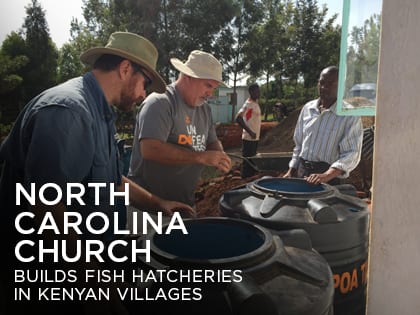 Harvest Church and nonprofit team up to build self-sustaining food systems in Kenya.
Jeremy Wixson, a fish farming expert from Fitzgerald, Georgia, asked Christ to show him a way he could use his craft for the glory of God. Meanwhile in Kenya, Rose Bugusu, who runs the Tumaini Orphanage, prayed for a means to feed the undernourished children in her care. Nairobi native Peter Abungu was also in prayer, asking the Lord to help him grow his orphan ministry and hospital clinic.
Through a web of connections, all three prayers were answered.
Drew Raynor, the pastor of 85-member Harvest Church in Cary, North Carolina, had partnered with Sara Beth Fentress, founder of 127 Worldwide, a nonprofit orphan and widow care ministry in Raleigh, North Carolina; she knew Bugusu and Abungu. Then, Raynor's father introduced him to Wixson, a close friend. Three months later, Raynor, his father, Wixson and Fentress were on a plane to Kenya to equip villagers with a viable means for creating a sustainable life.
"The way these things came together made all my Jesus hairs stand on end," says Raynor, who, along with his team, built prototype aquaponics systems in both Nairobi and Tumaini. These systems pump waste water into vegetable beds, supplying nutrients to the vegetables; then, the water is pumped back into the fish tanks. In short, the plants feed the fish and the fish feed the plants. "It's a simple, self-sustaining system that's easy to manage," explains Raynor.
This summer the team will return to Africa to build six larger tanks. By February 2017, the villages will be able to harvest enough fish to feed 2,000 people a month. "That's where the impact potential of these hatcheries goes through the roof," says Raynor.
Once the system is honed, Raynor and his team plan to take the concept to other fish-centric areas to not only create food and a livelihood for villagers but also to spread the gospel to formerly unreached places. "In our environment, our most fundamental need is to stay alive," says Pastor Chris Omondi, Abungu's uncle. "So if you want to give people Jesus, you've got to wrap him in a sandwich."
In this case, a fish sandwich.