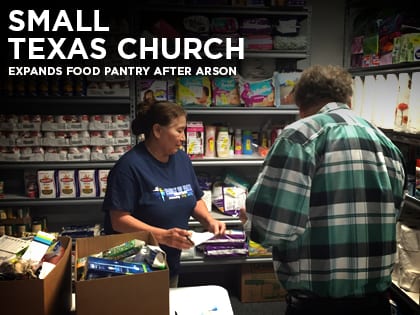 Family of Faith Worship Center in Waco turns tragedy into an even greater outreach to the community.
In 2014, an arsonist torched the rambling, 1920s-era house behind Family of Faith Worship Center in Waco, Texas.
Lead Pastor Ruben Andrade Jr. and his church of about 150 people had purchased the home with plans to transform it into an expanded version of the basic food pantry the church had been running for four years.
Previously, the church had operated the food pantry out of its main building. But space limitations meant it could only open once a week, and people had to line up to collect a prepackaged box of food.
The new food pantry would allow clients to shop for food, toiletries and clothing, as well as receive confidential case management services with social workers by appointment. When the arsonist struck, the church had invested $15,000 into the project and was just two months away from completion.
But the church turned what could have been a disaster into an even greater outreach to its neighbors.
Last fall, the owner of a local Spanish-speaking newspaper heard about the church's dilemma and offered to let the church open its new pantry in a storefront he owned—no rent, all utilities paid.
"That was an answered prayer to be able to move to a more inner-city facility where people would have more access to it," Andrade says.
With the new space, the church has expanded its food pantry hours and has tailored its offerings to better meet the needs of the community it's trying to reach, including Spanish speakers and the working poor.
Andrade says the language barrier prevents other local nonprofits from adequately serving these people. Spanish speakers are also often ashamed to stand in line for food, but they'll willingly meet with someone privately in a church setting to receive help.
"We're able to refer them to resources they otherwise wouldn't have even known existed because of the language barrier," he says. "But we'll also sit down and pray with someone. We'll counsel them, we'll lead them to the Lord. That has helped us to establish relationships with the 150 to 250 families we serve each week.
"We didn't want to just keep playing the same record over and over," Andrade says. "We want to provide assistance but also try to provide resources to get them out of the hole they're in."
So how has such a small church managed to help thousands of families? Andrade first points to God, but he also acknowledges the volunteers.
The church's theme for 2015 was "Stepping Out." From teens to the elderly, the church has done just that.
"This year, stepping out has taken my congregation to a whole new level of understanding of loving and serving your neighbor," Andrade says. "But we don't have the budget to do everything we've been doing. It's only been possible through volunteers and community partnerships."
Social workers have come from Baylor University's School of Social Work and the Methodist Children's Home in Waco. Other food pantries regularly provide goods, and even people from other churches volunteer.
"People trust the church to be the institution where they can go and seek help," Andrade says. "We are the place people come to, but we don't have everything the people need. That's why we make community partnerships. Because of all of this, a small church of 150 has been able to impact thousands of families in our community."