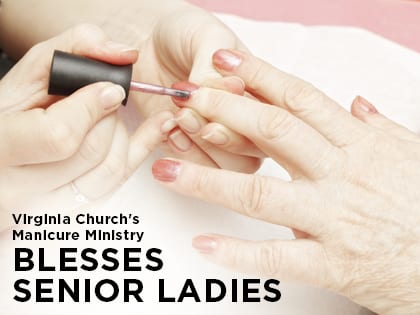 Volunteers at Great Bridge Baptist Church create fun for residents at nearby assisted living center.
Armed with just a basket of nail polish and cotton balls, Nancy Blake walked into an assisted living center 15 years ago to provide manicures for the elderly women who lived there. Her mother resided in an assisted living center before passing away, and recalling how much her mother enjoyed getting manicures inspired Blake to give other elderly women the gift of beauty.
Fast forward to 2015 and Blake, along with 25 women from Great Bridge Baptist Church in Chesapeake, Virginia, make weekly visits to a nearby assisted living center. They not only give residents manicures but also organize dress-up days for the seniors and treat them to baked goods.
"We have play dates," Blake says. "We have a princess day where they all go dress up in gowns and tiaras. We also have jewelry and things. It's fun."
Blake and her team sometimes organize ice cream socials featuring tea, hot chocolate and a variety of fruit. They also decorate the center's dining quarters with tablecloths and flowers.
"The ladies love it," Blake says. "It's pampering."
Although her manicure outreach didn't start as a formal Great Bridge ministry, staffers from the church, which averages up to 900 worshipers every weekend, eventually heard about how Blake and her team were serving the elderly and began donating nail polish and cotton balls.
The seniors appreciate the makeover just as much as they appreciate the attention, according to Blake. They know that she and her team come from a church and occasionally participate in corporate prayer.
"Everybody has a story and they love to tell it to you," Blake says. "And they have a good time. We're touching them. We're holding their hands when we do their nails and that's something that means a lot to them."
Find more seniors outreach ideas »