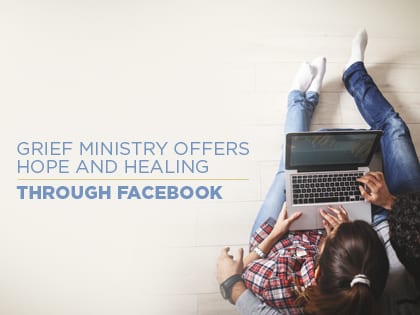 St. Joseph Catholic Church in Arkansas creates online support community for those dealing with grief.
Joe Batchelor's truck hit heavy traffic and flipped at least twice, killing the 19-year-old at the scene.
The son of Ray and Celeste Bailey "was like a big teddy bear" who always stood up for the underdog, Ray Bailey says.. The grief-stricken father felt a "permanent heart-crack" after losing his son, he says. "You're so down you don't want to move."
But reading the Facebook posts of others who have suffered similar losses, as part of an Arkansas church's grief ministry—"that propels you," he says.
"Those who mourn cannot go over, under or around their grief," says Kathy Kordsmeier, who leads the Beacon of Hope grief ministry. "The only way is to go through it."
When Facebook users "like" the grief page of St. Joseph Catholic Church in Conway, Arkansas—average weekly attendance 2,025—they can read about handling loss and finding community.
"It's really about sharing your story," says Aprille Spivey, 27, who knows grief well. Spivey felt as if she entered a nightmare when her mother, age 47, died from complications of lupus. "I didn't know where to turn," Spivey says.
But that's when Spivey met Kordsmeier, who introduced her to Beacon of Hope. The ministry offers group and individual counseling, as well as the Facebook page, which Spivey added in 2014 as her contribution to the ministry. "You just share your story," says Bailey, referring to the group meetings where about nine grievers gather monthly.
"Telling our stories in any form is healing when we are faced with a significant loss," Kordsmeier says.
Voicing grief—through talking, writing, singing and other healthy creative outlets—can validate thoughts and feelings connected to the loss. After Spivey's loss, she found Beacon of Hope's individual counseling helpful, meeting weekly with Kordsmeier.
"I remember saying, 'I don't know how to do this. I don't know what to say,'" says Spivey, who felt emotion she didn't know how to handle. Spivey found space to talk and someone to listen—"which meant a lot," she says.
She returns the favor by sharing her experiences on the Facebook page almost every week, offering the same kind of empathy and support Kordsmeier gave her. "My goal is to let people know they're not alone," Spivey says. "I feel like God has used the pain to at least help other people."