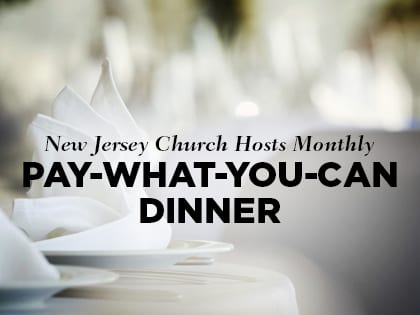 "People can dine with dignity," explains Rev. Paul Jeanes III, pastor of Trinity Church. "Nobody knows who pays and who doesn't."
On a Friday night in Princeton, New Jersey, a former drug abuser, thief and gang member named Tracey Syphax speaks in front of a crowd at Trinity Church's One Table Café. Syphax inspires listeners by sharing how he went from four-time prisoner to ultrasuccessful businessman. The crowd cheers and revels in Syphax's success story, even as some of them face their own harsh realities, including homelessness, domestic violence and extreme poverty.
One Table Café was conceived six years ago when Trinity's outreach team brainstormed new community initiatives. They wanted to offer a free meal program that stood out from the traditional soup kitchen or bagged-lunch handout. Then, an idea emerged from the pay-what-you-can community restaurant that singer Jon Bon Jovi had opened in Red Bank, New Jersey.
The outreach team loved the idea of creating a place where anyone in the community could enjoy a tasty meal, regardless of their ability to pay. So they created One Table Café, which serves a delicious, five-course meal to roughly 120 people on the third Friday of every month.
"People can dine with dignity," explains Rev. Paul Jeanes III, who has been the pastor at Trinity Church for seven years. "Nobody knows who pays and who doesn't."
Fourteen local restaurants have partnered with the church to supply food for the dinners, which come complete with linen tablecloths, candles, flowers and wait staff. On some weeks, inspirational speakers address the diners. Other times local jazz bands or gospel groups perform. One night after everyone finished eating, diners moved the tables for some Latin-style dancing.
The outreach initiative enables people in the community to engage with one another, no matter their cultural, educational, philosophical or political differences. Every Sunday during communion at Trinity, Jeanes states, "At this table, there are no strangers, outcasts or unwanted guests. All are welcome." The same holds true at One Table Café.
"White and black, gay and straight, Democrats and Republicans—we put our differences aside for humanity," says Jeanes, who notes that the most important part of outreach is continuing the conversations on the streets, outside of the church building and programs.
"What good is it to gather inside church walls if we don't transfer what we do in here out there?" asks Jeanes. "We tend to segregate ourselves, but the reality is there's more that brings us together than separates us."
The church's attendance numbers have held steady at around 430 attendees per weekend, but getting more people in the pews was never the intention of One Table Café. The purpose was to create Christ-centered human interaction.
"We need to break bread in person, have human touch and engage in face-to-face contact," says Jeanes. "We can't do it in isolation. We need to journey together to make the world better."