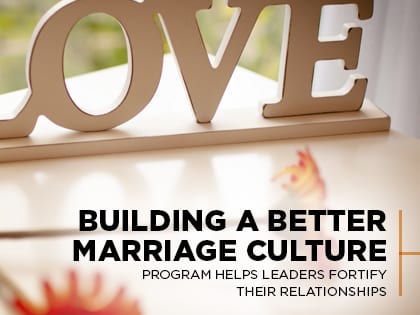 MarriageStrong seeks to bolster the marriages of pastors and other church leaders amid the pressures of ministry.
In our Real Ministries for Real Marriages series, we look at how churches across the country are thinking up ways to meet the needs of couples in their congregations—from those anticipating a wedding, to those seeking to strengthen a healthy marriage, to those grieving a divorce.
When a dean at Fuller Theological Seminary asked what could be done to increase the success of graduating students, licensed therapists Terry and Sharon Hargrave responded: work with students on their marriages, so that upon graduation, their relationships are prepared for the struggles and pressures of ministry.
Terry, a professor of Marriage and Family at Fuller, and his wife, Sharon, executive director of the Boone Center for the Family at Pepperdine University, took on the task of designing a program that could build into the lives of Fuller's married students. What they came up with was MarriageStrong, created specifically to "prepare marriages for leadership roles and help couples embrace the power of partnership, creating an environment for marital satisfaction and success in ministry," says Sharon. The small group, psycho-educational program can be taught in a nine-week group or as a weekend retreat.
For the Hargraves, the MarriageStrong vision extends far beyond the success of seminary graduates; it's about building a better marriage culture for society at large. According to Sharon, many churches, Christian organizations and academic institutions desire to create a marriage culture that is positive and designed to build strong marriages and families for the future. But, she says that's more difficult than it sounds, due to various cultural factors.
"Many people feel encouraged by the good news that the divorce rate has stabilized and possibly even dropped a bit in the last couple of years," observes Sharon. However, she points out, "When one adds the factor of cohabitation into the statistics, it becomes clear the divorce rate is stabilized because people just aren't getting married as much anymore." The U.S. Census in 1960 reported 450,000 couples cohabitating; in 2011, that number had skyrocketed to 7.6 million. Faced with these facts, the Hargraves wondered, what are the reasons people are choosing to live together and not marry? What is happening in our culture to create such a resistance to marriage?
"If a positive marriage culture is going to exist," says Sharon, "excitement and enjoyment of marriage has to come from leadership couples in all areas of ministry."
Jeff Reinke, marriage and family pastor at North Coast Calvary Chapel in Carlsbad, California, reports that his church has used MarriageStrong to create this kind of positive marriage culture in their community. "[It] begins with the senior pastor and has been embraced by our whole staff," he says. "Our personal marriages and family are a high priority." Every year, the entire staff attends a marriage retreat, and the church has created a program that reflects the value they place on healthy marriages and has become a resource that impacts San Diego's North County, according to Reinke.
At North Coast Calvary, a team of thoroughly trained mentors and leaders incorporate MarriageStrong in the premarital program, marriage enrichment classes and workshops. "MarriageStrong is unique in that it is more than just skills or awareness of marital problems," says Reinke. "It provides a transformational process that focuses on personal and redemptive growth that spills over into your marriage."
A significant part of that transformational process is working through an individual's pain and peace cycle, a concept that helps participants identify their own hurts and coping mechanisms and trains them to remember the truth in the midst of conflict, thus helping them get unstuck from a conflict.
"By learning about their pain and how they react in pain, they also learn about what it means to live in peace," says Sharon. "Therefore, even people who are in marriages where only one person wants to work to make the relationship better can improve the dynamic of the relationship."
Julie Sutton, who works for the Salvation Army Training College in Rancho Palos Verdes, California, went through the MarriageStrong program with her husband and reports, "It honestly, personally changed my life." Like most couples, Sutton and her husband argue, but "before when we argued we would get stuck," she says. "I now know that we were in our pain cycles, and understanding how to get out of that has changed everything."
Another important aspect of the program is teaching participating couples to build the "us-ness" in their marriage. "Many current trends in marriage therapy teach couples that in order to get along, partners just need to accept each other," says Sharon. But MarriageStrong teaches couples to grow and benefit from each other's differences. The goal for couples is not to simply resign themselves to their differences in personality, temperament or gifts, but to truly embrace those differences as positive and to even become more like the other.
Today, Sutton offers MarriageStrong groups to the pastors-in-training at the college, and also uses the material in the conflict management and counseling techniques courses she teaches there. Although she uses the material in the specific context of training ministers, Sutton believes that MarriageStrong "transcends barriers."
Reinke also believes in the widespread, powerful influence of the program. "MarriageStrong is at the forefront of laying a biblical blueprint for a theology of relationship," he says.
For Sharon, that biblical blueprint stems from passages like Ephesians 4 and Colossians 3. "These and many other scriptures remind us we are called to 'take off the old self' and 'live in the new self,'" she says. "We are told that if we live in the new self, we are patient, kind, gentle, loving and forgiving."
But, she points out, many people feel they are kinder to those in the outside world than to their own spouse, children or siblings. "If we believe Christ truly changes us, we should be changed 24 hours a day," she says. "As I learn about my own destructive tendencies, I learn more about what it means to live in the new self in Christ. As I live more in the new self in Christ, I like myself better and my marriage and relationships begin to reap great benefits."