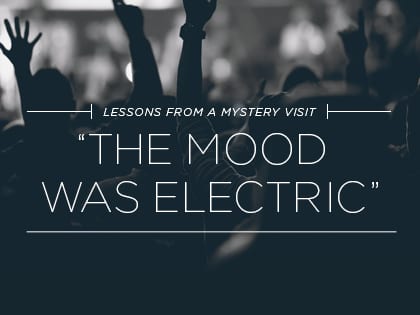 An unchurched person reports on an unannounced visit to a local church. Could it be yours?
—A 20-something unchurched female visits a large church in southeast Texas
OVERALL SCORE
*****
What was it like when you entered the building?
A designated greeter welcomed me and showed me to the main sanctuary. The mood was electric and bustling. People were in the lobby either sitting at tables, in the sofa seating area or at the coffee bar.
*****
Was it obvious where the children's ministry was located and that it was clean, secure and well-staffed?
The children's and youth ministries seemed safe, clean and easy to locate. I would feel comfortable leaving a child in their care. The youth would enjoy it because the staff designs a weekly colored pamphlet covering the same message as the adults, but in a fun way.
*****
Did you observe anything that would lead you to believe that the church values diversity?
I saw mostly Caucasian people in the church. Maybe they can look into doing more outreach and charity events in ethnically diverse areas they have not reached into yet. The church age group was mostly a younger crowd, college students to people in their 50s.
***
Describe the service.
I love the contemporary style of music. It was live and the musicians sincere. Although one man was awesome, I rated this part of the service fair because some of the singing seemed off-key. The 30-minute message was appealing and focused on how to become children of the light. The speaker explained how we should not be discipled by our culture. As children of the light, we should walk in the light. We shouldn't stay in the dark hiding our sins, but we should always be seeking to obey his will. God isn't just concerned about what you do but why you do it. Awesome message! The concept was easy to grab. The information was relevant and interesting. The preaching pastor was prepared, comfortable and easy to understand. The church provided the Scriptures on a screen.
****
Overall, how friendly would you say the church was to you during your visit?
Overall it was extremely good. I felt welcomed!
*****
Would you return to the church?
I would be willing to return to this church because they don't dress up. They wear regular clothes and that will make a lot of people comfortable. I encourage others to attend because they can be in a good atmosphere. College students and kids would be more attracted to this church.
*****
Adapted from a report provided by Faith Perceptions, which has evaluated more than 4,300 worship services across the United States. Visit FaithPerceptions.com.