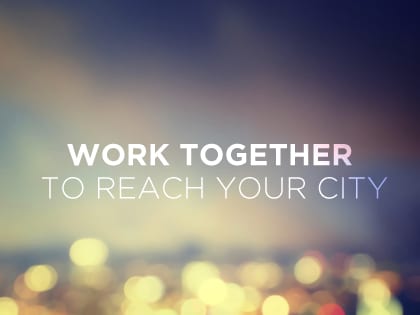 What potential challenges will you face when you come together with other leaders to plant churches?
What happens when churches from diverse denominations come together with a vision to join forces to reach the fourth-largest U.S. city? Here, Bruce Wesley, founder of the Houston Church Planting Movement, shares how 12 churches have come together to create the HCPN Church Planting Residency and the tensions he and these leaders have navigated to collaborate and engage the city.
The old adage goes, "If it was easy, everyone would do it." We usually hear this when we feel the pain associated with doing something worthwhile, but difficult. Collaboration fits here. It's worthwhile, but difficult. But why is it difficult to get churches who share the same Lord, and the same Great Commission and, in our case, the same city, to collaborate?
The Local Church vs. the Church in the City
As I sat at the table with senior pastors of growing churches to share our vision, I couldn't help but wonder how they would receive my call to join together in a work to bless the city through planting new churches.
Because I had already experienced tension in the church, I imagined they had the same questions. These men served as pastors of distinct local congregations. Even if these pastors embraced the belief that there is one church in the city, their experience in the local church reinforced a strong sense of autonomy.
Consequently, I didn't try to redefine the nature of the church as being one church in the city. Instead, I focused on what we had in common: the lostness of our city and the Great Commission of our Lord. I celebrated our common desires, emphasizing how collaboration would glorify God and strengthen our ability to bless the city through planting churches. I suggested that each of our autonomous congregations could celebrate the success of our common labors as the fruit of their local church, which leads to another tension.
My Church Plant vs. Our Church Plant
As we collaborate to plant churches in the city, one of the questions asked most often is, "Whose church plant is this?" Sometimes the question relates to who will take ultimate responsibility for the new church. More often, however, the question centers on who gets credit for the new church plant. This sounds more selfish than it really is. Churches cooperating to plant churches for the first time feel responsible to report the outcomes of their mission gifts with integrity. If we give credit for each church plant to all participating churches, the accounting seems off.
Multiplication requires that we get beyond the issue of who gets credit for a church plant. HCPN churches determined to create a different way to report our progress, so we changed the way we keep score. We decided to report what we do together instead of reporting what we do apart. Now we see our calling as collaborative work, and we celebrate results as collaborative fruit.
Network vs. Partnership
Networks are all the rage, especially in church planting. I think that's because networks allow people to connect with one another around their passion to plant churches while keeping institutional alliances in place, like their denomination.
Networks usually form around a shared idea or need, and they often stay at the level of idea sharing. Partnerships, on the other hand, are designed to get things done. Typically, partnerships call for high commitment and target specific and measurable results. Networks coordinate information, but partnerships coordinate action.
The HCPN started as a network. Then we developed a partnership with select churches to equip church planters who will plant in the Greater Houston area. To harness the strengths of both a network and a partnership, we keep the two separate. HCPN is a network that gathers to encourage church planters, facilitate collaboration and pray for the city. But the HCPN Church Planting Residency is a partnership that trains men to become leading church planters in the city.
Keeping Leaders vs. Releasing Leaders
This year is Chad Clarkson's 10th anniversary on our staff at Clear Creek Community Church as the pastor of church planting and missions. His impact on our local church has been profound. So the thought of Chad giving 80 percent of his time to direct the HCPN Church Planting Residency felt a little like cutting off an arm.
Every pastor decides whether to be kingdom-minded or to focus on growing the local church. Some of the decisions to be kingdom-minded are more painful than others. It's not so hard to pray for God's work outside your local context or to set aside some of your budget for God's work outside your church. But when impact players shift most of their focus from your local congregation to the work of the larger church, the cost of kingdom collaboration seems really expensive.
When you're committed to multiplication, people equip and deploy others into the multiplying work of the kingdom with an appropriate sense of desperation. Kingdom-minded churches choose to equip and release leaders so that the kingdom grows, even if at times the church feels the pinch.
Formative Partners vs. New Partners
Multiplication demands that when a movement gets traction, it necessarily welcomes new partners. But new partners create tension, often wanting to shape the direction of the collaborative work. Also, getting people on board takes time. You have to recast the vision, retell the collective narrative and restate the values and purpose of collaboration. New partners might change the relational dynamics, or they might bring onerous expectations or previous relational conflicts or trust gaps. In spite of these potential tensions, multiplying movements go beyond simply adding partners; they actively recruit new partners.
Why do we invite the added stress of new partners? We recruit and add new partners because we want to see far more churches planted across the city. New partners provide the energy and resources for growth, and they bring new relational pipelines for collaboration.
So how do we maximize the benefits of new partners and minimize the tensions? Collaborative efforts must develop an onboarding process for new partners similar to the way many churches onboard new members. We share the need, cast a vision, declare expectations and ask for specific commitments that will keep our collaboration healthy. For various reasons, some churches need more time before they can commit to wholehearted collaboration. We don't pressure people. We simply continue to invite their participation if and when the time seems right for them.
A Shared Story vs. a Shared Strategy
Developing a collaborative partnership requires both a shared story and a shared strategy. The tension surfaces over which comes first.
Story is more compelling to collaborative partners than strategy. A shared story is the recognition of God's work around us, told in a connected narrative that demonstrates God's providential work in the city. In a well-articulated shared story, listeners can see their place in God's work in the city.
Strategy is less collaborative by nature. Usually, someone is the mastermind behind a strategy. Strategies are good and necessary, but they often feel contrived. That doesn't mean they're wrong or evil. Strategy is necessary to give clarity of vision and to chart the path of shared leadership and common commitment. But multiplying leaders who build collaborative partnerships gets the order right: shared story and then shared strategy.
Bruce Wesley is founder of the Houston Church Planting Network and author of the free Exponential eBook Multiplication for Collaboration: The Story of the Houston Church Planting Movement.