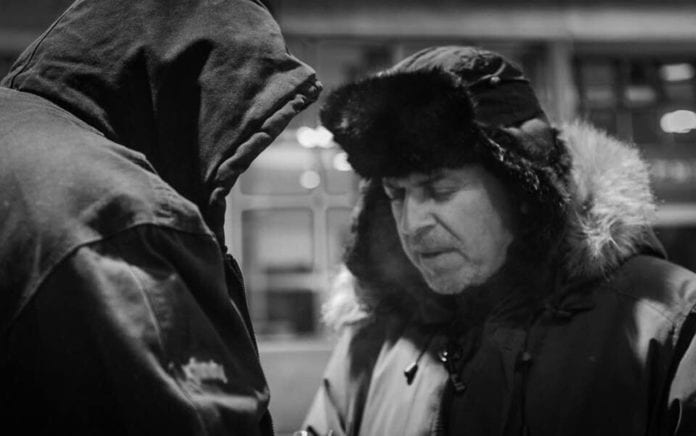 Grace in the City Church in Downtown Minneapolis is giving street residents the supplies they need to brave the cold.
"You can be outside for five minutes and get frostbite, if you're not covered properly," Pastor John Steger of Grace in the City Church says about the severe weather they experienced this past week in Minnesota. "The homeless will die out on the street if they don't have the proper gear."
Steger heads up a unique ministry in Downtown Minneapolis. The church began in 2017 by taking over a coffeehouse. They quickly found that their downtown home is not only in the center of business in the Midwest city, but also inhabited by dozens of homeless men and women. They developed a model of outreach that was recently renamed "The Hub." It's a cool coffeehouse that offers everything for free from lattes and croissants to sandwiches and salads. The Hub is open Monday through Saturday, and on Sunday becomes Grace in the City Church.
The facility includes office space that they rent out to places like Platinum Staffing and, more recently, The Minneapolis Police Department. Grant Snyder, a Christian and sergeant on the force who is assigned to homeless services, is a friend of Steger's. "He was looking for office space, and I had an office available in the back of the church," Steger says. "The chief of police loved it, the mayor loved it, and the next thing you know they're leasing office space from us. It's been a great partnership. We definitely take care of each other."
When the polar vortex pulled subzero weather into the Twin Cities, pastor and police sergeant knew they had to take action. "We've been doing weekly outreach on the street. When these temperatures came, we knew the severity and wanted to make sure people have everything." The pair has been out every night, as the wind chill hit minus 50, handing out hats, gloves, scarves and, of course, hot coffee and food from The Hub.
Steger and Snyder are very familiar to the street residents. They were greeted by everyone, like one woman who was outside without proper clothing for the cold. "I give her bus tokens all the time, and I saw her that night. We gave her a scarf and some gloves. She gave me a big hug and said 'God bless you, Pastor.'" Steger says it's a goal for both the church and the police department to build community. Grace in the City's mission statement is "Glorify God by creating unity and building community."
Steger, who stepped out in faith to start the ministry in 2016, related another tense situation that required several officers and an ambulance. "We went out Tuesday night and, literally, this guy wouldn't leave his tent. He was starting to have frostbite." The officers urged the man to get into the ambulance. He didn't want to lose his spot or his possessions. Snyder had his head in the tent and Steger was back near the police vehicle praying. "The man was saying to Snyder, 'I feel the Spirit's presence here.' Snyder asked, 'What do you mean?' He said, 'Why don't you go ask the pastor?' It was crazy. He knew I was there, but I don't know how he could recognize my face behind my hood and my hat." Steger said a peace came over the situation and the man was taken to the hospital. They have seen situations like this turn violent in the past.
Even though the extreme cold has lifted for some Midwest states, Steger empasizes, "The cold is not over for us. It stays cold for a while." The pair will continue to hit the streets because "people know that when they see us, they're getting something. They know they're going to get the love, and we're not going to judge them." That means an open door to reach out and build community.
The Hub exists to serve anyone in need, but Steger points out that it really is all about sharing the gospel. "We wanted it to be a place that provided the solution, and the solution is Jesus. Without him it never changes." Anybody can come in and see a diversity of people from the homeless, to students and business people. "We are a church and we have this facility that is open 6 days a week. You come in and everything is free. The neighborhood can, and does, come in. Everybody can co-mingle and coexist." Steger says that he really believes that this is what the church in the 21st century is supposed to look like.
The Hub is always looking for donations, but the need through the winter will be for heavy coats, sleeping bags, blankets and tents. Steger also says that they are always looking for partners who will come down and serve alongside them. "We have outreach every single day. If you want a place to do mission work in North America you can come right here." He tells us that several churches are already planning summer mission trips at The Hub.
To donate or get connected, visit GraceInTheCity.org or call (612) 999-7991.