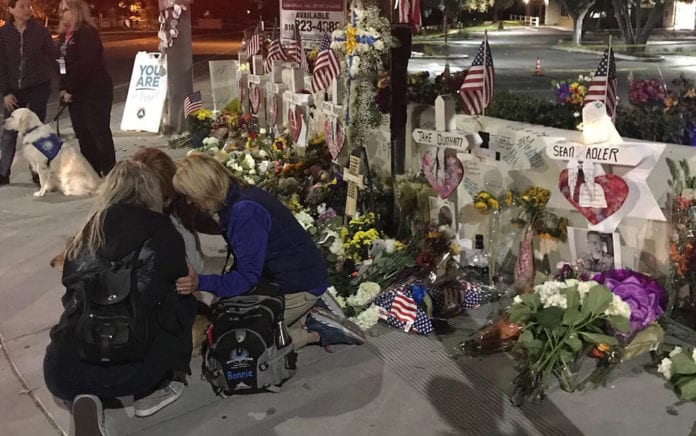 Just before midnight on Wednesday, November 7th, a gunman walked into Borderline Bar and Grill in Thousand Oaks, California, and began shooting, killing 12 before taking his own life. Less than a day later, the Woolsey wildfire ignited, forcing members of the grieving community to evacuate.
Pastor Jim Crews of Atmosphere Church is new to the area, but he's not new to a community in crisis. Last year, he was leading Valley Bible Fellowship in Las Vegas when the October 1st mass shooting at the Route 91 Harvest music festival occurred. He made his way down to Las Vegas Boulevard just hours after hearing that church members had lost their daughter. He stayed and prayed with survivors and ministered to law enforcement officers and hotel workers for days after. He had no idea that this would be preparation for his current role.
Shortly after the incident, the California native left Las Vegas to start something new in Thousand Oaks, a quiet town that sits about 45 miles northwest of downtown Los Angeles. Atmosphere began by meeting in homes, and in early September of this year, were excited to begin services at a local golf course. "Little did we know that two months later the golf course would be the neighbor to the Borderline Bar and Grill tragedy."
The clubhouse is less than a quarter mile from the bar. Pastor Crews heard about the incident, just after midnight, from a church member who lives close to the bar and grill. He then began receiving texts and phone calls from the church and friends from around the country. "It was the most eerie feeling for me. I thought, here we go again." Some of his new church's members are survivors of the Route 91 shooting who followed Crews to California because of that shared experience. He says for them it just reopened those old wounds.
The next day, churches in the area gathered for a memorial service at the local civic center. As people gathered in the late afternoon, smoke was visible in the hills north and south of town. The winds started kicking up. "We were all showing up, gathering for prayer and everybody starts getting emergency alerts on their phones." The fires were getting out of control and Thousand Oaks residents were being ordered to evacuate. The area exploded with activity as fire trucks and emergency vehicles flew past the prayer vigil with sirens blaring. Crews and his wife, Tara, left the plaza and went to stay with family in Bakersfield.
Thousand Oaks was still reeling from the shooting on Wednesday as the Woolsey fire raged through the area on its way toward Malibu. Much of the town and surrounding area was under mandatory evacuation.
As Sunday approached, Crews thought, "This is the Sunday that we need to gather more than any other Sunday that we've gathered—maybe in the history of this community. Because we knew that the Sunday after the shooting in Vegas was one of the most powerful services our Las Vegas campus has ever had." But how do you hold church when most of the members are gone and even the golf course has been evacuated? Crews thought maybe technology could be the answer and he prepared to have church on Facebook live. He even prepared a short video to explain how things would work. He tried to upload the video, but his efforts were frustrated—God had other plans.
One of the Atmosphere Church members interrupted Crews' frustration with a phone call. She explained that a memorial had been set up for the shooting victims right across from the golf course entrance. She went to see it and met members of the Billy Graham Rapid Response Team. She explained to the team that her church meets right across the street. They said to her, "Why don't you tell your pastor that we would love to have your people here to help us. We're here just to help the community, but we want the local church to partner with us."
You are here for such a time as this, Crews excitedly remembers God impressing on him. Our church service is supposed to be at the memorial on Sunday! He created a new video explaining the plan and had no trouble uploading it to Facebook.
About 30 members of the Atmosphere community who were still in the area gathered at the golf course parking lot on Sunday morning. They were met by the Rapid Response Team chaplains who coached the church members on what to say. Then they crossed the street to the memorial. "We didn't know this, but at 2 a.m. that night, the same guy who put up the crosses at the 'Welcome to Las Vegas' sign the previous year had made it over to Thousand Oaks." There were now a dozen white crosses with names of each victim written across them, and the victims' families had been notified. Within minutes of the church gathering, hundreds of people began coming to the intersection.
"Our church is there. The Billy Graham Chaplains are there. I said to the crowd that if you want to pray with us, just grab somebody's hand," Crews explains, "Every single person—the hundred plus people—all joined in our prayer circle. People started crying. I didn't even experience this in Vegas!" They spent the rest of the "church service" hugging, praying and crying with people who needed a real expression of God's love. Crews calls it the church being the church.
"It was probably the most powerful church service that I've ever been a part of and it wasn't even in a church building!" Crews says. "It was at an intersection with strangers. Some of them had never stepped foot in a church and have never prayed a prayer in their lives."
While it's still too early to tell the effect of the gathering on the community, he is certain that his church has changed. Members are continuing to go to the memorial and minister. They are also planning an effort to thank the local emergency responders and another to reach out to local college students.
Just a few weeks prior, Crews had told the church that outreach was going to be the heart and soul of their church and "the church is best when it's left the building." How quickly that would be true of this church plant.
The entire area of Thousand Oaks is still healing from the double tragedies and an organization of Ventura County churches has set up a website to help with those in need: ActionVC.org.
You can find out more about Pastor Jim Crews and Atmosphere Church at Atmosphere.church.