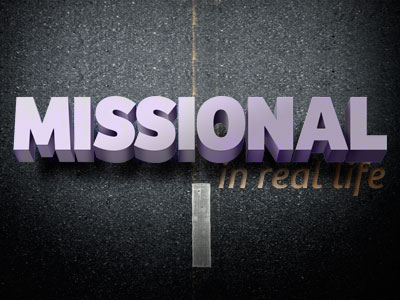 What does the buzzword that has captivated all things church really look like in a local congregation and community?
The forces that oppose the kingdom of God in this world are not nearly as afraid of pastors as much as they are the notion of every Christ follower simply embodying and contextualizing the mission of Jesus in their lives.
What frightens the forces of darkness is the notion that a man who loves golf and plays with coworkers who would never "come to church" might simply begin loving and serving his golf buddies. He probably also invites them over to dinner or offers for he and his wife to watch their kids so that his friend can have a date night with his wife. He develops enough relational continuity to share about his own walk of faith. Eventually, it results in him going from just "nice guy" to "vital friend." That's what living incarnationally looks like.
This is what can and will happen in a person who understands that God's mission in the world is, in fact, their mission as well. Mission is the "what" and incarnation is the "how." Combine both and you unleash the single most powerful force ever known.
Starting in January 2010, the leaders of Granger Community Church in Granger, Indiana, invited the people of Granger and our community at large into an open source process to reorient our vision around missional imagination and the church as apostolic movement. This process gave us endless organic opportunities to affirm our belief that every believer carries within them the potential for world transformation. You could see the missional impulse awakening in people like never before. Passion was unleashed. This led to endless numbers of catalytic conversations that ended up changing the definition of what church is for many people.
Below are just a few of the stories of people on mission in Granger Community Church in Granger, Indiana, that we've collected as a staff and are now sharing:
Kristin Baker: Jesus at a Chalkboard
Before switching careers, Kristin Baker was a high school teacher in public schools for 10 years and loved it! All except for lunch time in the teachers' lounge. While she was loving her time in the classroom seeing kids light up, she noticed that her peers seemed more like worn out survivors than amped up leaders. She remembers hearing them call the students "idiots," "worthless" and worse, and began to realize that many teachers weren't villains, but burned out victims of a flawed system.
"There were several programs for at-risk kids," Baker recalls, "but who is encouraging the at-risk teachers? Who is there to remind them they matter and their purpose is worth the work?"
In Baker's experience, the teachers are often treated like children, or in their own words, "guards in a prison." As a result, she started dreaming and began asking, "What if high school was actually something to look forward to, for both teachers and students? Something that was engaging, and felt more like family than an institution? What if teachers were helped and encouraged on a regular basis more than they were reprimanded?"
Dreaming soon gave birth to volunteering as Baker spent every Friday helping teachers with anything and everything they couldn't get around to, from organizing and grading to leading creative writing workshops and working with their toughest troublemakers one on one. She used to dread lunch time because of all the negativity, but now that's her favorite part!
"I bring in treats for them, listen and encourage these incredible people who have the weight of future generations on their shoulders and a tough crowd to face every 55 minutes. They say that 'hurt people hurt people,' but I believe better loved people love people better. I may not be able to single-handedly turn around the public education monster, but it's a little yeast in the dough—and every little pocket has lift."
Joe Wisler: Jesus Gots Mad Skeellz
Joe Wisler has been around Granger since 1991, and he says, "I learned at Granger to live out a walk with Jesus in my day-to-day life." His successful career in the sound industry helped him develop a skill set in technical training. Back in 2000, he began to ask himself, "How can I take these skills I've developed in the marketplace and infuse that with the mission of Jesus to benefit my community?"
In 2008, at the peak of unemployment rates in Elkhart County, Wisler met a man who had been asking the same question. The resulting dream built an organization now called The Life Center of Elkhart Country. The goal is to change lives through education. Wisler says, "Our goal is to teach biblical principles for all of life to at-risk youth and adults."
For two years, The Life Center has offered vocational training, such as welding, auto mechanics, computer technology, business office communication and customer service. Basically, Wisler says, it's a Bible-based, leadership-skill development track.
"At first, we had no place to call home, but through what could only be described as a miracle, we were able to purchase five acres of land, and while the previous owner didn't want to sell at first, he ended up donating another four buildings on an additional 30 acres of land. God is good! We're seeing men who were on a path of returning to prison break substance addictions, get their GED, graduate from vocational training and secure new jobs.
"We're just getting started, but we've already seen 30 percent of our students who graduate find meaningful employment. More than that, we've seen Jesus bringing new life to so many who were ready to give up."
Dan Blacketor: Jesus Loves Daughters
We all remember the tsunami that hit India back in 2004. Dan Blacketor, who at the time had his own insurance agency, became a volunteer leader for Granger construction teams going to the tsunami zone to help with the rebuilding.
On a subsequent trip in 2008, Blacketor says: "I was confronted with God's purpose for my life. We stopped at a a small town called Dharmapuri. As I got out of the car, an Indian family was coming up from the river just having drowned their newborn baby daughter. I was aware of infanticide, a practice fueled by the caste system and the associated traditions, in which baby girls are seen as a liability and murdered at birth. But until that moment, I couldn't believe this horrific practice still occurred."
Over the next three months, Blacketor was torn as he studied the issue and realized that each year, South Asia sees a holocaust of 10 million infant girls. "I wasn't sure there was anything a white boy from Indiana could do. But it never let me go."
Three months later, he returned to India to meet people working on solutions and to visit villages where infanticide is still happening. In one village, where every single family had killed a daughter, he met a young mother with a newborn. He learned the baby girl's life will hang in balance until she receives a name. Being the only "white boy from the US,"—who was perceived as a visiting celebrity—Blacketor grasped an opportunity created by his Indian friend, Raj, who said, "Give her a name and celebrate her birth with a small financial gift."
"We threw out three names," Blacketor says. "The kids chose Rhema. I held her, said a quick prayer, tucked a couple of bucks in her diaper and handed a couple more to her young mother. That little act shocked the whole village by demonstrating a baby girl's life had value and worth. That small gift gave Rhema a chance at life. That's it."
Coming home, God had given Blacketor his answer: "I realized God had equipped me with just enough knowledge and life experiences to change the fate of one little girl." That night, the Rhema Project was launched, a movement of friends committed to rescuing more babies like Rhema. The project started with Rhema's village, where two years ago, more than 35 girls were killed shortly after birth simply because they were female. "Today, after a few small initiatives and with the help of friends," Blacketor says, "no baby girls have been murdered in the last three months!"
Ted Bryant: Jesus Loves Leftovers
Six years ago, Ted Bryant was working on his doctorate at Notre Dame when he decided to go on a mission trip with the youth group at Granger to visit some orphanages in Mexico. They needed to fill 40 suitcases with school supplies to give away while there, and Bryant remembers thinking, Wow! That's a lot of pencils. How are we going to do that? In the coming days, he said to God, "OK, well, give me an idea that will cause a problem—that we will have so many supplies we can't even fit them all in the suitcases!" He had no idea what he was asking for!
Later that week, Bryant thought back to his own school days, specifically the locker clean-out days at the end of every year, and simply thought, What if instead of students throwing away everything, I provided different containers next to the trash cans so that they could put new or slightly used school supplies, books and clothes into them for recycled redistribution to people who can't afford them?
It was an easy enough idea, and Bryant thought it would empower student leadership to carry out the project; help reverse the out-of-control culture of waste; save thousands of pounds from the landfill; provide hope for the most needy in our communities; and provide an opportunity for every student to give back to their own community without ever having to leave school or buy anything new. That was the beginning of GreenLockers, an organization Bryant formed to handle all of the supplies and redistribution generated through this concept.
To date, GreenLockers has doubled in size and scope since its inception, growing from two schools the first year to 34 schools and more than 16,000 pounds of sorted supplies collected in 2009. These supplies are given away to charities all across Michiana, and even to international partners in Mexico and India.
Jason: Living on the Edges
At the ripe old age of 31, Jason is an "elder" in the skating "tribe" gathered in a small town just north of Granger's main campus. Jason's mad skills on a board and a bike have given him the respect of this clan. But it's much more than that. This clan is comprised mostly of teenagers and 20-somethings from broken families who live on the edges. Jason, although he is one of them, is a curiosity because he is not only a skater, but a happily married husband and a deeply engaged father. Most of this tribe have never seen that before, not among one of their members. Together, along with a few friends, one of whom owns a skate shop, they are planting the gospel, through word and deed.
Recently, Jason invited the tribe to have a deeper look into his life. Each day, he created a short video with his cell phone that he uploaded to YouTube so his tribe could see "… what my everyday life with Jesus is like." One day, he's out skating at the park, he wipes out, and lands—on his head! The next day, he's playing with his little boy and they make up a rap. One video features him washing the dishes for his wife. Jason is very transparent and direct about his faith and clearly shares how grace touches every area of life, but he's not "preachy." A few of the videos have a strong artistic flair, featuring Jason rapping or creating graffiti (in his basement, by the way; no laws were broken!).
I have to admit, half the time, I can't fully understand what Jason is even saying. Why? Because the good news is being expressed through the culture of that tribe, of which I am not a member. Put me on a board, and I'll end up in a hospital. But like a good missionary, Jason speaks their language fluently. Each video is embedded with the symbols, dialect and metaphor of that tribe. Each day, you can see the videos have each been viewed somewhere between 40 to 50 times, which is the size of that tribe. That means virtually every member of his tribe is on the journey into the Gospel with Jason. He is already discipling them, before they are even converted. He's sharing with them a life in the way of Jesus.
Rob Wegner serves as pastor of life mission at Granger Community Church in Granger, Indiana. His upcoming book, Missional Moves, chronicles the church's 10-year journey to missional and will release at Granger's 2012 conference (Sept. 13-14). Currently, he's working alongside author Alan Hirsch in the Future Travelers cohort, helping megachurches become missional movements.