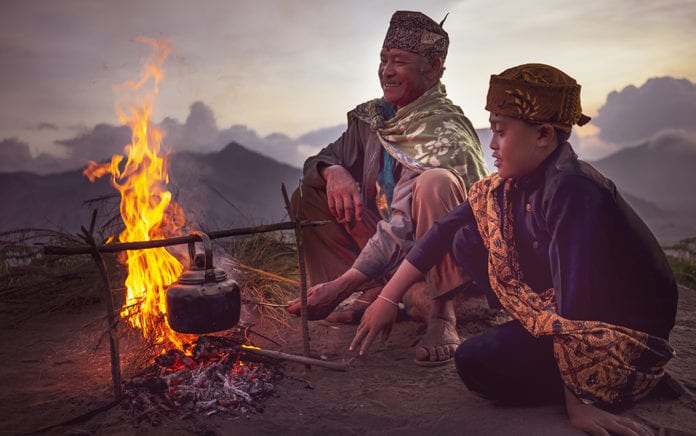 The International Orality Network is working to develop strategies for reaching oral cultures worldwide with the message of the Bible.
Of the 7.7 billion people in the world, 5.7 billion are oral preference learners according to the International Orality Network. They further estimate that there are 1,961 predominately oral unengaged, unreached people groups who don't have a single verse of Scripture in their heart language.
The International Orality Network (ION) is a global network of 2,000 organizations that grew out of the Lausanne Committee for World Evangelism in 2004 with the mission of making God's Word available to oral communicators in culturally appropriate ways.
David Swarr is the executive director of ION and president and CEO of 4.2.20 Foundation. We asked him about the particular challenges and opportunities of sharing the gospel with predominantly oral cultures.
What are some reasons you feel audio Scripture engagement is better for certain cultures than a traditional written translation?
Of the over 7,100 languages of the world, less than 700 have a full Bible translation, and of the 700 full Bible translations less than 100 have been recorded in audio. How is an oral learner or communicator to engage with that which is only accessible in print?
Oral communicators, sometimes called oral learners, comprise as much as 80% of the world population. Twenty-three percent of the population is illiterate; 37% is functionally illiterate (meaning that while they may be able to read or write their own name and a bit more, they do not function literately); 3% are visually impaired. That makes up 63% of the global population. In addition, approximately 18% while being literate, perhaps even highly literate, still prefer to learn by oral means. These are sometimes referred to as "oral preference" learners or communicators.1
There are entire cultures that are highly reliant on oral means of communication, and many will not engage with textual forms of Scripture even if able. Audio, and other forms of oral Scripture engagement are therefore far more beneficial.
What steps do you take to ensure that oral cultures are getting a faithful representation of the full testimony of Scripture?
It is difficult to "ensure that oral cultures are getting a faithful representation of the full testimony of Scripture" when a full Bible translation does not exist in their language or in audio format with which they can engage. One must work with what is available, making sure that it is conveyed in the most oral-friendly approach possible within the context.
This may take numerous forms. In fact, the Bible itself illustrates a plethora of oral means of communication which God used in discipling an oral nation.2
What are some ways that you facilitate deeper Bible engagement among the people you are reaching?
One of the numerous ways in which deeper Bible engagement among oral communicators is being facilitated is through a methodology which intentionally interweaves Bible storying with audio Scripture engagement. Bible stories are learned first by listening to an audio recording. Then utilizing the principles of Bible story engagement the passages are internalized, applied and passed on. This methodology has been found to be very successful in numerous contexts around the globe.
What are some recent innovations or technological developments in translation efforts for oral cultures that our readers should be aware of?
Several new methodologies and accompanying technologies have been developed to facilitate oral Bible storying and oral Bible translation (OBS & OBT). One of these is the Render program developed by Faith Comes by Hearing in conjunction with The Seed Company and Pioneer Bible Translators.3 Other similar methodologies are also being pioneered.
What are your thoughts on the progress that is being made and the trajectory of translation efforts going forward?
In light of the fact that over 25% of the languages still requiring translation do not have an orthography, the growing emphasis and focus upon oral Bible storying and translation is a very encouraging development.
Though in fairly early stages of development OBS/OBT initiatives are building in volume and momentum. There were two global consultations focused around this issue in 2018. OBS/T training for practitioners is underway (Graduate Institute of Applied Linguistics/DIU) and a new undergraduate/graduate program is being launched by the Center for Oral Scriptures: the 4.2.20 Foundation.4
There is a great need for a new generation of translation and orality laborers from around the globe to be equipped. Training laborers who can work from the biblical source languages directly into the receptor language can enhance both effectiveness and efficiency, potentially accelerating access and engagement with Scripture whether textual or oral.5
Read more stories from our State of the Bible coverage in the March/April 2019 issue of Outreach magazine and at OutreachMagazine.com/Bible.
Sources:
Lovejoy, Grant.  "The Extent of Orality; 2012 Update", Orality Journal I, No. 1, (2012).
Swarr/Gidoomal/Araujo, Master Storyteller: God's Oral Communication in the Bible and Hebrew Tradition, 2017. MasterStoryteller.net