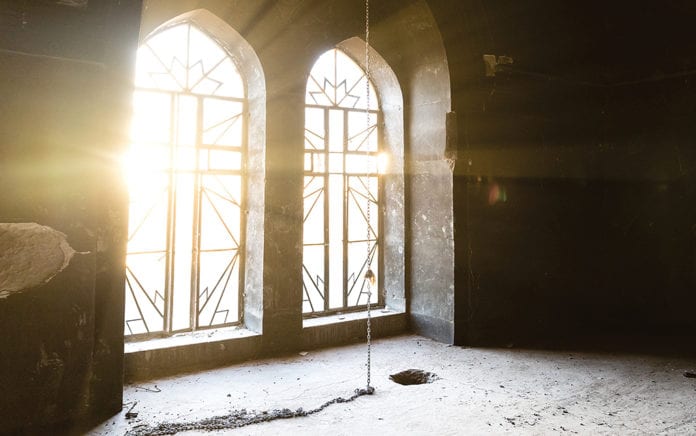 Around the world christians are facing unprecedented persecution. Here's how your church can respond.
Etty's dark hair falls well below her shoulders. She's petite, wearing a dark blue dress with brown leather shoes. She is reticent and carries herself across the room like a whisper. We just finished a meal of ghormeh sabzi, a traditional Iranian stew of lamb, pinto and kidney beans with vegetables and lime. Bahar, another Iranian woman who's with us, quips, "If you don't like ghormeh sabzi, then you can't be Iranian." We all laugh. It's a delicious meal.
I'm with Etty, Bahar and Mojtaba, three Iranian believers who all spent time in prison for their faith. And it's clear that all three believers love their home country and that they would still be in Iran if they had the freedom to worship Jesus. But in the Persian-speaking world, being a Christian is a dangerous act.
The Iranian regime declares the country to be a Shia Islamic State and is constantly expanding its influence. Hardliners within the regime are vehemently opposed to Christianity and create severe problems for Christians, particularly those who have chosen Christianity over Islam. There are spies waiting to turn in believers, and the police often engage in surveillance—including tapping phones, placing security cameras and following anyone suspected of Christian activity.
Etty grew up in a Muslim family, but her brother, a shopkeeper, heard the gospel from another shopkeeper and became a Christian. When her brother shared the good news with Etty, she decided to give her life to Jesus as well. Because it's illegal to convert from Islam to Christianity—seen by the Islamic regime as an act of treason—the moment Etty said yes to Jesus, she also said no to Iran.
Choosing Jesus in Iran
Soon after Etty began following Jesus, she also joined a small community of underground believers who started a church. Eventually, she helped disciple other Iranian women and worked with young children.
"All the time we have to be secret, and we must be careful about our faith," she says. "We couldn't go to a church building, so we just met in homes. We did praise and worship in low sounds so neighbors wouldn't listen to our worship or hear the sounds of our house church."
When Etty and her husband were engaged, they kept their faith hidden from the government so they could get married. In Iran, the government controls all facets of public life—and all marriages must be done under Islamic authority. The couple now has a little boy.
"It's so difficult," she tells me. "We must keep our faith hidden and secret, or more troubles will maybe come."
But in this influential country that is often called the "gateway to the Middle East," it's difficult to keep your faith hidden from the government for long. The secret police often infiltrate underground Christian communities by pretending to be new converts, assimilating into house churches and then arresting entire congregations. That's what happened to Etty and her husband.
During the final interrogation before they were sentenced, police slid a document across the desk and asked Etty and her husband to sign a paper denying their Christian faith and saying they would return to Islam. All the couple had to do was sign the document and things would go back to the way they were, the officers said.
Etty and her husband didn't sign the papers that day.
"It was a new experience for me," she says, "because I have to choose … But I choose Jesus."
It was a decision that would change their lives forever, ultimately forcing them to escape the country where they were born, grew up and had started to raise their family.
Christian Persecution at a Glance
Etty's story represents an estimated 215 million Christians around the world who suffer extreme persecution today because they choose to follow Jesus. Right now, Christians are under more pressure than in any other time in modern history.
While Christian persecution takes many forms, we at Open Doors—a Christian ministry focused on advocacy and relief for persecuted believers all over the world—define it as any hostility experienced as a result of identification with Christ. Throughout the world, Christians like Etty, Bahar and Mojtaba continue to risk imprisonment, loss of their homes and possessions (including custody of their children), torture, beheadings, rape and even death as a result of their faith.
Research indicates that nearly one out of every 12 Christians in the world lives in an area, or in a culture, in which Christianity is illegal, forbidden or punished. Trends show that countries in Africa, Asia and the Middle East are intensifying persecution against Christians; and perhaps the most vulnerable are Christian women, who often face double persecution for their faith and their gender.
In places like Nigeria, Christians face violent threats from Islamic extremist groups like Boko Haram and militant Fulani herdsmen. In its nine-year insurgency, Boko Haram has reportedly claimed more than 20,000 lives and displaced more than 2 million people. The group has become widely known for the April 2014 kidnappings of more than 300 Christian girls from a school in Chibok (you may remember the hashtag #bringbackourgirls). In North Korea, Christians are seen as enemies of the government, categorized as part of the "hostile class." If their faith is discovered, they are arrested and often sent to hard labor camps. To give you an idea of the inhumane conditions of these camps, survivors of Auschwitz have called them "as terrible or worse" than the infamous Nazi concentration camp.
In India, persecution is rapidly increasing as Christians face discrimination and violence against their churches and themselves by radical Hindu nationalists. In an effort to make India an all-Hindu nation, nationalists have publicly vowed to wipe out Christianity by 2021. And in places like Afghanistan, Iran and Somalia, following Jesus openly is nearly impossible due to threats of Islamic extremism. In other countries like Pakistan, Bangladesh and Tajikistan, Christians are marginalized and ostracized by societies that view and treat them as second-class citizens or as part of the "untouchable" caste. In these places and many others, Christians, especially converts from Islam, have targets on their backs.
But the numbers and facts are best understood through the voices of persecuted Christians who live in what Open Doors ranks as the most dangerous countries for Christians. Meet four in North Korea, India and Nigeria who are following God's call on their lives to share their stories.
Hannah's Story
North Korea is No. 1 on the Open Doors World Watch List.
"My mother only taught me one prayer. But I still pray it every day, for my family and for my country: 'Hanonim, Hanonim! Lord, Lord, please help!'"
That prayer has sustained Hannah Cho* through unimaginable hardship in North Korea. In the nation where Christians experience the widest extent of persecution in the world, Hannah and her husband endured horrific torture for their faith in a labor camp, ultimately resulting in her husband's death. Two of their six children died young (food and medicine are scarce in the isolated country), and Hannah has spent years separated from her family, wondering if they are alive after fleeing to neighboring countries for safety.
Still, despite trials of many kinds, Hannah's trust in Jesus' steadfast love remains. She is able to share her story because she now lives in relative freedom. But there are many others like her whose stories go untold as an estimated 50,000 to 70,000 Christians languish in North Korean prison camps, starving and enduring hard labor for their faith in Jesus Christ.
Even now, in the worst place on earth for Christians, God is at work, bringing many like Hannah to himself, perfecting their faith and keeping them under the shadow of his wing. Open Doors estimates the underground church of North Korea to be 300,000 strong.
Rohan and Neha's Story
India is No. 11 on the Open Doors World Watch List.
Late one night, Pastor Rohan and his wife, Neha, heard a knock at the door. When they looked outside, they saw a crowd of people gathered, sticks in hand. The angry mob had come to accuse the couple of evangelizing a young boy in their village. The leaders in the community wanted Rohan and his family out at any cost.
Rohan remembers the night of terror: "They began to beat my wife and me until we bled … and then they picked up our baby and threw him against a heap of stones. The trauma was so much that my wife lost the baby she was carrying in her womb."
Forced to leave their home with nothing, the family had no one to turn to. However, Neha says she heard God reminding her of the pain Christ suffered on the cross. They soon saw his provision. Open Doors partners reached out to the family with medical attention and other practical needs.
Ultimately, persecution and how they were cared for in the aftermath have strengthened Rohan and Neha's resolve to minister to others.
"God miraculously helped us and sent his people to give us timely help," Neha shares. "Many people just like us might be facing such persecution. We want to testify to them and serve them in their time of need."
Persecution of Christians is rising in India. More than ever before, the growth of radical Hinduism in the nation is fueling violent attacks with even greater impunity for attackers as the government sides with radical groups. Yet in the midst of it all, Christianity is growing exponentially in this nation of 1.3 billion. People are coming to Jesus in increasing numbers—proof that nothing can keep God from accomplishing his purposes through his people.
Yakubu's Story
Nigeria is No. 14 on the Open Doors World Watch List.
Yakubu awoke to the sound of Boko Haram militants breaking down his door in Yobe State, Nigeria. He knew what was coming next. After looting everything, they made their announcement: They were going to kill him. They sliced the back of his neck and cut the front of his neck twice before leaving him on the ground to die.
Miraculously, Yakubu survived, but his injuries and scars continue to plague him. He has a circular slash mark below his right eye. A deep scar runs from the corner of his mouth halfway to his left ear. Several linear scars on his back join in a gnarled mound. Six years after the attack, these scars still serve as painful reminders of the night he nearly lost his life for his faith.
Through Open Doors, Yakubu has received funds for neck and spinal surgery to alleviate the chronic pain from his injuries. This year, he will undergo plastic surgery as well. His story represents so many others who have suffered violence at the hands of Boko Haram and Fulani militant herdsmen. Yakubu thanks the Lord for saving him and knows his life is a testimony to God's faithfulness, both now and forever.
One Body, One Family
When Jesus confronted Saul in Acts 9, he didn't say, "Saul, why are you hurting these innocent people?" or "Saul, don't you care about human rights or religious freedom?" No, when Jesus confronted one of the greatest persecutors of Christians at that time, he simply asked, "Saul, why do you persecute me?"
Persecution goes back to Jesus. We are his body—the largest expression of the Son of God on earth. We're attacked, ostracized, falsely accused, imprisoned—and even killed—by proxy of the name of Jesus. That's also why Jesus said, on more than one occasion, "Blessed are those who are persecuted because of me."
Today, from Sri Lanka to Syria, from Egypt to Eritrea, from Nigeria to North Korea—and every other region where persecution occurs—it's always about him.
In 1 Corinthians 12:26, the apostle Paul reminds us that we, as the church, are called to both suffer and rejoice together as one: "If one member suffers, all suffer together; if one member is honored, all rejoice together."
We have both a beautiful opportunity and an obligation to stand with our suffering sisters and brothers in Christ as one family. As they suffer, the worldwide body suffers; when they rejoice, the worldwide body rejoices with them. Perhaps the greatest show of God's love today is not just to care for a hurting and lost world, but to care for our own hurting family—with radical, sacrificial love and unity.
Sometimes the issue of global Christian persecution can feel daunting and overwhelming, but it might be good to think of it in terms of your local church. When there's an issue or a need from a member in your community, you and others rally around to hurt with them, comfort them, encourage and pray with them—possibly even helping them with a physical need.
We need that that same kind of compassionate and intentional posture on a global level. God has called us to stand with the persecuted church and let them know they have not been forgotten. They're not alone. And the worldwide body of Christ is with them—in both their pain and their joy. Robert Kenna is on staff with Open Doors USA, an organization that exists to strengthen the church in the most hostile places. In more than 60 countries, Open Doors is on the ground and supports persecuted Christians with Bibles, Christian materials, discipleship, vocational skills, trauma counseling, advocacy—and a host of other ways—so that they know they're not forgotten and can stand strong to serve their communities.
For more of our coverage on justice issues see the January/February issue of Outreach magazine or go to OutreachMagazine.com/Justice.
EVERY MONTH …
• 255 Christians are killed.
• 104 are abducted.
• 180 Christian women are raped, sexually harassed or forced into marriage.
• 66 churches are attacked.
• 160 Christians are detained without trial and imprisoned.
—Open Doors
MOST DANGEROUS COUNTRIES
Each year, Open Doors publishes a ranking of the 50 most dangerous countries for Christians. Countries are ranked based on persecution in five spheres of life. According to comprehensive research, the top 10 nations where Christians found it most dangerous and difficult to practice their faith in 2018 were:
1. North Korea
2. Afghanistan
3. Somalia
4. Sudan
5. Pakistan
6. Eritrea
7. Libya
8. Iraq
9. Yemen
10. Iran
TRANSFORMATIVE PRAYER
J.D. Greear: "What You Pray for You Begin to Care About"
The 19th-century evangelist George Mueller said the man who mobilizes the Christian church to pray will do more for the cause of missions than any other man out there in history.
Over the years, I've watched that play out. Specifically, I've witnessed this happen in the hearts of people as they learn about and begin to pray for persecuted Christians throughout the world.
I'm convinced there's no generation that has as much responsibility to preach the gospel in all these places as we do. Previous generations of Christians will look at us and say, "We would have given anything to have what you have. You can literally send your people all around the world." And one way we can do this—a powerful way—is to partner with our persecuted brothers and sisters.
As a pastor, I intentionally look for ways to create awareness about our need to pray with persecuted believers. The persecuted church makes its way into my public prayers, sermon points and the things I write. Personally, I look at it as a matter of responsibility between me and Jesus. When I stand before him, I don't want to hear Jesus say, "I had all these brethren all around the world who were suffering, and you didn't even think about them in your prayer time. Not only did you not come to them, you didn't even think about them."
If I can mobilize our church to pray, what ends up happening is that God uses that prayer to work on their hearts—to challenge their hearts—because what you pray for, you begin to care about.
J.D. Greear is the president of the Southern Baptist Convention; pastor of The Summit Church in Raleigh-Durham, North Carolina; and an ambassador with Open Doors. Seeing Muslims come to faith in Christ has long been a burden of his, which led him to serve in Southeast Asia with the International Mission Board. For more: OutreachMagazine.com/JD-Greear
STANDING WITH SUFFERING BELIEVERS
What does a compassionate response look like for you and your church? To get started, Open Doors has numerous ways to help you increase your personal awareness of persecuted believers and also awaken your church to the existence of modern-day Christian persecution—and how they can follow Jesus' example and teaching to strengthen, encourage, comfort and pray for their persecuted family. Each resource is free and easy to access.
• Download the Pray for the Persecuted prayer app. This free app offers a simple way to pray for persecuted believers around the world. Get specific prayer requests from persecuted believers regularly delivered to your cell phone, including urgent prayer needs. Learn more at ODUSA.org/PrayerApp.
• Request the free monthly prayer calendar with specific requests from persecuted believers daily. Download it for individual or small group use. Learn more at OpenDoorsUsa.org/take-action/Pray/Monthly-Prayer-Calendar.
• Start the four-week study series The Ripple Effect—with host J.D. Greear—in your small group or class. The study is designed to help you learn about Christian persecution today and what Scripture says about it; and connect with persecuted believers around the world. Download the free series at RippleEffectSeries.com.
• Download free church resources. You'll find exclusive small group resources, videos, prayer walls, research and relevant stories to help you connect your church with their persecuted family around the world. Learn more at ODUSA.org/Church.
• Follow Open Doors on social media. Each day, Open Doors shares prayer needs, videos and stories as well as live broadcasts to help connect you to the needs and stories of persecuted believers around the world.
"But God has put the body together, giving greater honor to the parts that lacked it, so that there should be no division in the body, but that its parts should have equal concern for each other. If one part suffers, every part suffers with it; if one part is honored, every part rejoices with it."
—1 Corinthians 12:24–26