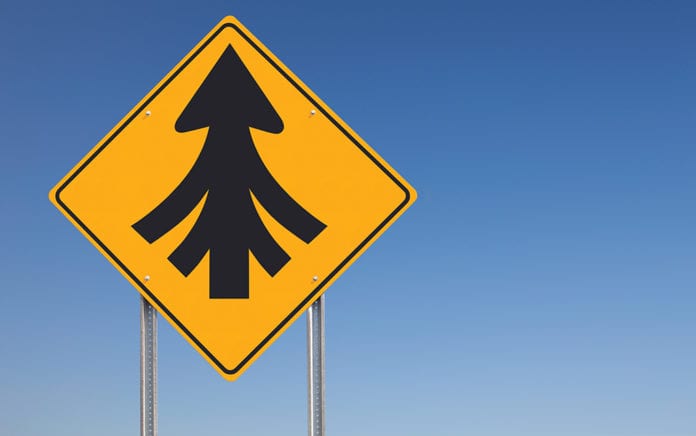 These changes are critical if we're going to have the global reach God desires.
Every Bible-following church has a passion to impact their community and the world with the gospel. The call of Jesus to make disciples from our community to ends of the earth still resonates in the heart of every church and leader.
After more than 30 years of serving as a local church pastor, I have learned that we must make a few critical changes if we are going to have the kind of global reach God desires. Organic outreach in our church and around the globe will happen as we embrace specific changes in attitude and action.
1. From Pushpins to Partnerships
Many local congregations, small and large, have a list of missionaries they support. These churches will often have a map with lots of pushpins showing where they support missionaries or partner with ministries around the world. There is something satisfying about saying we support mission work in many different places. This "pushpin" mentality makes church members feel good about the wide array of partnerships they support with money and prayers.
Here is the problem.
In most cases, we support five, 10, or 30 mission projects to the tune of a few thousand dollars each. This leads to faithful servants out in the mission field who are supported by 30 to 50 churches or ministries. They have to communicate with a massive group of churches, and when they come back to the States, they get exhausted trying to visit every supporting church.
What if we moved all of our support to one missionary or mission project? Instead of giving $2,500 to 15 mission projects we commit prayer, communication and $37,500 to one missionary or mission partner. What if we stopped giving a little to many places and gave a lot to one or two international missionaries?
I know it does not look very cool to have a map or globe with just one pin in it, but the truth is this strategy is better for global impact. If three churches did the same thing and gave substantial prayers, encouragement, connection and money to one missionary, it would be powerful. This missionary or ministry would have three big partners who get to know them, pray with passion and give generously. If a missionary came to visit supporting churches, they could spend a lot of time in a few places and not return to the field tired because they had to visit 50 different locations churches.
The biggest obstacle to shifting from pushpins to focused partnerships is that almost every mission partnership is attached to someone in your church (past or present). You love seeing the name of your friend, family member or past church member on your missionary list. You want to see a pin on a map representing support of this person, even if it's just a little support that is not really strategic. Making this kind of change will be uncomfortable, but it will bear real kingdom fruit and honor the mission of Jesus. Dare to give it a try.
2. From Me-Focused to Others-Focused
Many churches seek to have global impact by taking groups on mission trips, after which one of the most common comments is, "I really think this trip did more for me than it did for the people we went to serve."
This is a troubling declaration.
If the net result of spending thousands of dollars is that we had a great experience but had little impact on the people we claim to be supporting and serving, then something is wrong.
Our focus in partnering with a ministry in a place of need is to serve them, strengthen their ministry and help them spread the good news of Jesus. If the primary result of a mission trip is that we have a great experience, we need to make a shift.
Mission trips should be based on supporting a local leader, team or mission movement. They should see great value in our presence and partnership when we come. Yes, we can take delight in serving Jesus and his people, but we should leave saying, "We were used to strengthen this ministry, we were poured out and they are more effective in reaching their community with the gospel because we came and served."
The key to this happening is that we are not popping in for seven to 10 days to save the day. We go to the mission field to humbly serve an existing pastor, leader, missionary or ministry that will remain and continue the work for years to come. Our focus is not on having a great experience, but serving those who labor day in and day out in that part of the world.
3. From Temporary Help to Eternal Change
Often our "mission" work is designed to provide physical help. Water projects, building trips and other acts of service can be valuable and show that Christians are compassionate. But if all we do is offer acts of service with no witness to the person and work of Jesus, we are offering temporary help.
Churches that want to have a true and eternal global influence will continue doing acts of service while also connecting people to the One who holds the keys to eternal life in the presence of the Father. When we provide clean drinking water, we can also offer the living water of Jesus. When we provide food to the hungry, we also can tell them about the Bread of Life that God sent to open a pathway to eternal intimacy with him. When we offer clothing and shoes, we can tell the world that Jesus is ready to clothe us in his righteousness through faith in his name.
Too often we allow compassionate actions and provision of material needs to be the beginning and end of our outreach. It is time to link the eternal hope of Jesus to every act of charity and kindness.
Our helpful actions and service are never enough to save people. Our kindness will never replace a clear presentation of the life, death and resurrection of Jesus. Our service projects will never bring someone to repenting, confessing their sin and embracing Jesus as the lover and forgiver of their soul and leader of their life. We are simply not good enough.
The apostle Paul makes this crystal clear as he writes, "How, then, can they call on the one they have not believed in? And how can they believe in the one of whom they have not heard? And how can they hear without someone preaching to them? And how can anyone preach unless they are sent? As it is written: 'How beautiful are the feet of those who bring good news!'" (Rom. 10:14–15).
Actions of service are needed and deeply important. But words spoken with grace and clarity, infused with the good news of Jesus and led by the Holy Spirit, do what our actions alone could never accomplish.
We can make other shifts in our attitude and actions, but these three are a great starting point for most churches. You might want to take time to read these thoughts with your church board or outreach ministry to see if it is time to make some changes that will propel your church outward to make a greater global difference for Jesus.