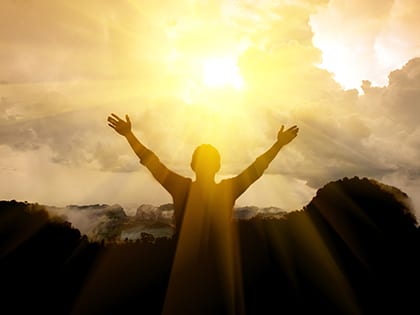 There are countless stories of God accomplishing what only he can when people step out in faith. What can we learn?
I am a collector of family stories. No, I don't spend all my free time on Ancestry.com or combing through old scrapbooks. I collect stories from the family of God. My favorite stories are the ones I call "Only God" moments. Those are the times when something happens that is so monumental, or out of the ordinary, that it only could have happened by the hand of God.
In addition to being the pastor of a church in North Las Vegas, Nevada, I am also a freelance writer. I have lots of my own moments but recently, I've had the privilege of interviewing dozens of pastors and ministry leaders. I usually ask them to share an Only God moment. Normally that gets a laugh and the response, "Where do I start?"
Unfortunately, many of these stories never make it to print. I want to share a few stories and answer a couple questions: Why does God still delight in showing his servants his hand? Is there a reason that nearly everyone has a moment like this?
The names and locations of these particular churches aren't the key—these stories could happen anywhere, and I have a feeling they've happened in many other churches too. My goal is to bring glory to God and spotlight some great family stories.
Town Council Showdown
There is a Midwest church that meets in an industrial section of their town. The town council was divided. Some of them felt that putting a church in that part of town was a bad idea. The naysayers felt that the town needed more industry and not a new church. However, the church was growing so fast that they needed a larger location, like an industrial warehouse.
The showdown came at a town council meeting. The vote had been put off for several months. One councilwoman was particularly vocal. This town needed new jobs and the tax revenue that this location could bring. She managed to swing other members her way. It seemed like the church would have to keep looking.
Only, God showed up as the vote was cast. Amazingly, the council approved the church's request by a single vote. More amazingly, the church held their first baptism service in the new location and the vocal councilwoman was there! While she was fighting against the church, her daughter was embracing a relationship with Jesus. This councilwoman is now one of the church's greatest advocates.
Perfect Timing
There's a church plant located in a major U.S. city that is the beneficiary of being in the right location at exactly the right time. The pastor clearly sensed the call to start a new church in the middle of a downtown area that is being redeveloped. The older buildings are being transformed into high-rise condos. Young business professionals are moving closer to their jobs in high tech start-ups.
The team found a great location in the middle of the action, a small coffee house on the corner of a downtown street. The pastor approached the owner, and she was completely open to the church meeting there on Sunday mornings. Within a few days of making the arrangements, they discovered God had different plans.
The pastor received a call from the shop's board of directors. It seemed that the owner made some wonderful coffee, but didn't make great business decisions. The board was planning to close the shop down. They asked if the pastor wanted to buy them out. Of course, a church plant doesn't have that kind of money, but they were able to agree to terms that the church could work with. Now this downtown area has a growing church with a rocking coffee house.
Money Matters
It seems like God delights in meeting the financial needs of churches in dramatic ways. I've spoken to several churches that have seen money matters resolved in the blink of an eye. Like the "million dollar miracle" that one pastor told me about.
A fast-growing Hispanic church in the West had already outgrown two locations. They needed a piece of land where they could actually build a facility. They found a great spot and made a deal with the landowner. They would have to make quarterly payments over the course of a few years.
The church was faithfully making their payment and found themselves on the homestretch. They had one million dollars left to pay and a year left to pay it. Their quarterly payment was due, and they took up a special offering. Everything was set, when God showed up.
The church also supports a mission in Central America that includes an orphanage. A disaster struck and the mission needed to repair their facility. The cost was nearly exactly what the church had collected for the building. The elders concluded that they had to help their mission. The pastor would try to explain the circumstances to the landowner and get an extension. The owner was so moved by the story, that he forgave the entire remainder of the purchase price. He told them the land was now theirs—paid in full.
By Why?
It seems like everyone in ministry has these kinds of moments. It doesn't matter if they are large or small. Maybe it's as simple as a church partnership that was totally unexpected, or the way church growth happens without any program or plan. God has this amazing way of working so that he alone gets the credit.
I am certain that there is a bigger reason for all this. You can see it reflected in biblical accounts. Like when Gideon is instructed to reduce the number of troops for his attack on the Midianites (Judg. 7). God tells Gideon to do this "lest Israel boast over me, saying, 'My own hand has saved me'" (v. 2). In other words, God does this to keep his people humble.
God also uses these moments to encourage us in the tough times. How many times does the Bible refer back to something from the past? For example, God delivering Israel from bondage in Egypt is referred to dozens of times over the following hundreds of years. Every one of us needs the reminder that God came through then, and he can do it again.
Jeff Chaves is a freelance writer and pastor. He has been married to Peggy for more than 32 years, and they have four children. He is the pastor of Northpointe Community Church in Las Vegas, Nevada.